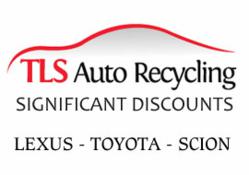 TLS Auto Recycling The Place for Toyota Camry Parts
Los Angeles, CA (PRWEB) May 10, 2012
The Toyota Camry has long been one of the most popular car models in the United States. For 13 of the last 14 years, it has been the top car model in the country, according to Bloomberg Businessweek. The 2012 Camry was launched six months ago to huge acclaim; caranddriver.com referred to it as being in "the enviable position as the default mainstream sedan of choice – quiet, smooth, comfortable, reliable, and affordably priced." In other words, the Toyota Camry is the car not only of the year, but of the decade and beyond.
The biggest problem with the Camry – and this is quite the enviable problem to have – is that the car is built to last. As such, Camry owners do not often need to buy new cars – instead, the cars simply need new parts every once in awhile. TLS Auto Recycling is here to fill that market gap. TLS helps customers save 50-60% on used automobile parts and stands ready to meet clients' needs as they relate to the country's most popular car. Customer service at TLS is always central, and work with each customer to ensure that they get exactly the Toyota Camry Parts which are required. Whether it is for a compact, full size, or hybrid Camry, whether an engine or a transmission is needed, think no further than TLS Auto Recycling.
About TLS Auto Recycling:
With a staff boasting a combined experience of over 70 years in the dismantling and recycling industry, TLS Auto Recycling is at the forefront of the northern California auto recycling business. Specializing in auto parts for the Toyota, Lexus, or Scion driver, TLS Auto Recycling is renowned for its high rate of client satisfaction and customer-oriented business philosophy. A leader in the green industry and in environmentally friendly business practices, TLS uses only clean and undamaged parts that undergo rigorous in-house testing.
Contact Information for TLS Auto Recyling:
George Trunyan
TLS Auto Recycling
george(at)alltoyotalexusparts(dot)com
(877) 247-1717
http://www.alltoyotalexusparts.com