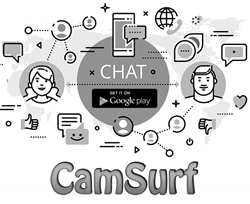 The nature of Camsurf provides something for everyone
Los Angeles, CA (PRWEB) November 15, 2016
As video messaging service Camsurf continues to grow at an extraordinary rate according to both Google Trends graphs and Alexa global website rankings, it is clear that meeting new people via webcam chat is the hottest way to socialize right now. This is backed up by a recent study conducted by review service, Chatreviews, which demonstrates how the random chat industry as a whole has experienced significant growth in 2016. Like Skype with strangers or Tinder with video chatting, there are many reasons why Camsurf is so addictive and continuing to attract huge numbers of users.
Freedom of Expression – Camsurf requires no personal details to use the video messaging service. This anonymity affords users freedom of expression they couldn't enjoy if they, for instance, uploaded a video of themselves singing along to Katy Perry in a hilarious costume to YouTube. The YouTube video would inevitably be subject to ridicule whereas a performance on Camsurf is over as soon as the "Next" button is clicked by either party.
The "Next" Button – The star feature of Camsurf is the "Next" button, an opportunity to escape mind-numbingly boring conversation without having to excuse yourself awkwardly first. If video chatting with a person who isn't a compatible match, users can simply click "Next" and instantly connect with someone new. Of course, the same is true for the person on the other end of the conversation which makes the stakes of maintaining interesting conversation much higher than other social apps and services.
A Global Community – Camsurf presents users with the opportunity to connect with people from all over the world. This opens up the chance to video chat with people users would otherwise never have met, or even known about their existence. Usres can improve their French with a connection in Paris one minute, enter a conversation about the political climate in Brazil with a local the next, and chat about indie bands in New Orleans after that. The possibilities are endless in such a global community.
Social Freedom – Camsurf could be compared to the old AOL chat rooms, where users can interact freely in an anonymous environment. In an age of Facebook privacy settings and potential employers having the ability to check Twitter feeds, this type of social freedom is refreshing and hugely appealing to many of Camsurf's users.
New Ways to Have Fun – Social media, dating websites, and text chat rooms are among the main ways of interacting online. However, these methods of communication have become quite dull recently, with many people searching for new ways to entertain themselves online while meeting new people leading to a rise in the popularity of Chatroulette services. The beauty of Camsurf is that everyone can find their own way of enjoying the service whether dressing up and singing for strangers, trying to learn about a new culture or language, or even looking for love, Camsurf has something for everyone.
"The nature of Camsurf provides something for everyone", said Camsurf Co-Founder, Allen Fox, "Even if you are slightly skeptical at the beginning, we are sure that anybody can enjoy what Camsurf has to offer".
About Camsurf
Camsurf is a free, easy to use video chat messenger service where people can use their webcam to make new friends, find love, learn a new language, or discover a new culture online. Camsurf offers a lightweight and simple video chat platform, the ability to filter users by country, and a free mobile app for chatting on the go. Camsurf makes a stand against cyber bullying and harassment through its Safe Space campaign.