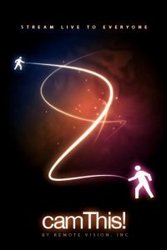 This app is for anyone who's been someplace and thought, 'I wish I could share this moment with someone else,'
Oak Hill, WV (Vocus) April 5, 2010
A mobile application developer has selected a West Virginia digital agency as its official marketing partner.
Remote Vision, Inc., based in Illinois, recently announced its partnership with WELD. According to Remote Vision founder and developer Ryan Kelly, WELD will help test and grow the user base of the firm's app camThis!
camThis! allows iPhone users to live-stream video from their phone to the phones of friends. Users receive phone notifications that a friend is about to broadcast video and can tune in to watch. The application makes use of users' Facebook friend connections, and posts a status update to the video-caster's Facebook Wall.
"This app is for anyone who's been someplace and thought, 'I wish I could share this moment with someone else,'" Kelly said. "Any time you've ever said, gosh, I wish my friend could see this, or I wish my family was watching this — well, they can with camThis!"
Kelly said he has visions of soldiers deployed abroad watching a child's first steps back in the states or breaking news events shared with friends, all with a few simple taps on the iPhone.
Early adopters of the app are already suggesting improvements and the software will undergo continued development, Kelly said.
WELD CEO Brandon Holmes said camThis! has an inherently viral design. Both broadcasters and viewers must download the iPhone app, and the automatic posting of updates that a camThis! user is streaming will incite curiosity among more friends on Facebook.
"All my friends are asking already, 'What is this I see all the time that you're live-casting with?" Holmes said. "There is a lot of potential with this app. Like these other social media phenomena, it's about bringing people closer together — even though they may be separated by great distances — and enabling them to share their experiences."
Holmes added that a big focus of digital marketing, business process and life in general is shifting to mobile platforms. He said his firm of consultants, designers and programmers is pushing clients to stay on the forefront of the revolutionary changes technology is bringing, to help them better connect with their audience.
In addition to mobile app developers and technology companies, WELD serves clients in diverse industries such as healthcare, law, education, economic development, travel and tourism, and retail, including Fortune 500 brands.
###