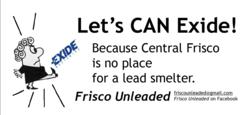 "As I learned more about the harmful effects of lead and Exide's problems, I felt a personal responsibility to get involved on behalf of my family and other families, " - Matt Vonderahe, Friso resident
Frisco, TX (PRWEB) October 24, 2011
A Frisco, TX, citizens group - Frisco Unleaded: Get Exide Out - will recognize National Lead Poisoning Prevention Week and demonstrate their concern about lead contamination in their community this week by building a replica of the local Exide Technologies lead smelter from more than 2,000 cans of donated food. The lead smelter replica then will be carried off to illustrate the community's strong desire to "Can Exide!" The citizens also are offering a tip sheet to help educate people about how to prevent lead poisoning, which was prepared by one of the world's leading experts on lead toxicity.
Frisco Unleaded: Get Exide Out, is a grassroots group of residents - many are young parents - who find the threat of lead poisoning very real in their everyday lives. "I really believed this was the sort of problem other people would solve. But as I learned more about the harmful effects of lead and Exide's problems, I felt a personal responsibility to get involved on behalf of my family and other families, " said resident and Frisco Unleaded member Matt Vonderahe.
How "Can Exide!" Will Work
Starting today to Thursday, Oct. 27, from 10.a.m. to 7 p.m., people can bring canned food to the Frisco Unleaded site at Frisco City Hall. Every canned good that is donated will represent one pound of lead. The goal is to collect at least 2,000 cans – 2000 "pounds" or approximately one "ton" - which will represent the amount of toxic lead the Frisco Exide plant emits into the local air each year.
A scoreboard that will keep track of donations, will start with a score of "0" for the HOME TEAM (Frisco), and a score of 2,175 for the VISITOR (Exide), which represents the number of pounds of lead Exide emitted into the air in Frisco last year.
Lead Poisoning Prevention Tip Sheet Created by Top Lead Toxicity Expert
While they are working to "Can Exide!", Frisco Unleaded members also want to help educate people in their community and around the world about how to protect their families from lead poisoning. They will make available a Lead Poisoning Prevention Tip Sheet created by Howard Mileke, Ph.D., one of the world's leading experts in lead toxicity and contamination and research professor at Tulane University's Xavier Center for Bioenvironmental Research. The Tip Sheet is available for download at http://www.leadfreefrisco.com/2011/10/24/lead-poisioning-prevention-week-get-tip-sheet-created-by-leading-expert-on-lead-toxicity-contamination/
Why Citizens Want to "Can Exide!"
1. Children and a Lead Smelter That Violates Air Pollution Standards for Lead in the Heart of Frisco
Frisco, a Dallas suburb that has been one of the fastest-growing cities in the United States for several years, is one of only 16 cities in the country – and the only city in Texas - that has a lead smelter that doesn't meet federal air pollution standards for lead, according to the Environmental Protection Agency.. The Exide lead smelter physically sits in the heart and geographic center of Frisco, less than half a mile from City Hall, the library, and popular downtown housing and shopping areas. The EPA's non-attainment area covers an area almost three miles from the Exide lead smelter, which includes major residential areas, schools, parks, recreation areas, etc.
There are more than 125 children and family friendly locations including schools, day care centers, parks, recreation areas and outdoor entertainment attractions such as Dr Pepper Ballpark and Pizza Hut Park, within a five-mile radius of the 47-year-old Exide lead smelter.
Almost half of the households in Frisco have children, and according to the 2010 census, 35% of Frisco's population of more than 116,000 was comprised of school-aged children. In August, Dr. Mileke told the Frisco community that recent blood lead level testing by the Texas State Department of Health Services indicated that tested Frisco children showed blood lead levels 60% higher than the norm for other Texas children tested by the agency. Mileke also pointed out that according to the state's data, 24% of tested Frisco children had blood lead levels in excess of 2 micrograms of lead per deciliter of blood.
There is no safe level of lead, especially for children under six years of age, whose minds and bodies are going through their most critical periods of development. Recent research has proven that a blood lead level of 2 micrograms of lead per deciliter of blood or higher can cause nerve cell damage in young children, which can permanently impair cognitive learning skills and cause behavioral problems, among other health problems. Lead is a very potent neurotoxin, and research findings show that a one-unit rise in blood lead level reduces a student's Grade Point Average by 1/10 of a percent.
2. The Frisco Exide lead smelter has not met federal air pollution regulations for lead emissions since November 2010, according to the EPA, and it has received the following formal enforcement actions, fines and violations from federal and state agencies since August 2011:

Unilateral Administrative Order by the EPA, citing significant soil and water contamination.
Texas Commission for Environmental Quality (TCEQ) Formal Enforcement Action after inspections in May and June found dangerously high levels of lead and cadmium at the Exide facility. Lead levels in some areas were reported to be as high as 47 times what is legally permitted for industrial sites.
TCEQ fines Exide for repeated violations in effluent monitoring and reporting fluid toxicity.
The Occupational Safety and Health Administration cited Exide's Frisco plant for repeated violations of exposing employees to dangerously high levels of lead.
3. Lack of responsiveness and transparency from Frisco City Hall
Despite repeated requests by Frisco residents for elected and city officials to explain why they won't consider using the same amortization process the City of Dallas used in the late 80s and early 90s to close three lead smelters that were contaminating nearby neighborhoods, there has been no answer from City Hall. The Frisco City Attorney is fighting an Open Records Act request made by citizens to release documents that pertain to the Exide lead smelter's City-issued building permits and zoning classifications.
"In my eyes, because of the lack of action and transparency, the City of Frisco is as guilty as Exide, maybe more so because while you expect Exide to look after its own self-interests, you expect the City to protect its own residents, " said Meghan Green, resident and Frisco Unleaded member.
Frisco's Mayor Masso and City Council members have repeatedly made public promises to ensure that the Frisco Exide plant would become one of the most environmentally advanced plants in the country, or it would no longer operate in Frisco. To date, the City has done nothing to publicly address either.
###
###