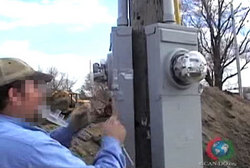 Together, we can contribute to real change here at home.
Crow Creek, South Dakota (PRWEB) February 25, 2009
This winter, the Crow Creek Indian Reservation is experiencing record-low temperatures reaching fifty below zero. Hundreds of families living in government housing have had their electric meters removed by Central Electric Cooperative, the local electric cooperative. When these power meters are pulled the families are left in the cold; the propane heaters do not run; pipes freeze; and there is no water for cooking, drinking, bathing or flushing toilets. Many of these households have family members whose lives depend upon electronic medical equipment such as defibrillators.
Ironically these families are paying some of the highest electricity rates in the country even though they live adjacent to the Big Bend Hydro-Electric Dam on the Missouri river. These homes are poorly insulated causing electric bills in excess of $300.00 in the coldest months.
Median income in the region is approximately $5,000 a year (typical of the thirteen Lakotah (Sioux) Reservations in the "Great Sioux Nation" as defined in the Treaties of 1851 and 1868 with the US Government).
"I've been to disaster areas around the world including Sri Lanka after the tsunami, hurricane Katrina, and after the Iowa floods, but I have never witnessed such blatant disregard for human life as I have here in my own country on the Crow Creek Reservation," stated Eric Klein, Founder and CEO of Compassion into Action Network - Direct Outcome Organization (CAN-DO). "Especially now, with the new administration focusing on the development of America's infrastructure, we need to focus our energies and resources immediately to address these critical situations where such infrastructure is being blatantly manipulated."
Appalled by the abuse and neglect, one US Marine and Crow Creek resident took action to publicize the exploitation. Using a hand-held video recorder, he documented local power companies physically cutting electricity lines and removing meters in the peak of winter.
Watch the footage at: YOU TUBE
Utilizing their proven approach to providing lasting solutions with full accountability, efficiency and results, CAN-DO is addressing the operation at the Crow Creek Indian Reservation on the local level to raise the nation's awareness of the urgent human right abuses taking place in the South Dakota region.
"We are calling for a collaborative effort by ethical individuals, organizations, schools and political leaders to assure that this damage is reversed," said Klein. "Together, we can contribute to real change here at home."
View the complete Crow Creek plan at CAN-DO.ORG.
South Dakota Law states:
LAWS OF SOUTH DAKOTA TITLE 49
PUBLIC UTILITIES AND CARRIERS
49-34A-2. Service required of utilities. Every public utility shall furnish adequate, efficient, and reasonable service.
49-34A-6. Rates to be reasonable and just - Regulation by commission. Every rate made, demanded or received by any public utility shall be just and reasonable. Every unjust or unreasonable rate shall be prohibited. The Public Utilities Commission is hereby authorized, empowered and directed to regulate all rates, fees and charges for the public utility service of all public utilities, including penalty for late payments, to the end that the public shall pay only just and reasonable rates for service rendered.
Source: SL 1975, ch 283, § 16.
About CAN-DO:
Founded by Eric Klein, CAN-DO has set a new standard for humanitarianism and is changing the face of philanthropy. It quickly has become an organization people can trust and depend upon to "get it done" fast and effectively. It is a 501c3, relief organization dedicated to working on the local level to provide lasting solutions, with full accountability, efficiency, and results.
Video footage, photographs and the web site offer documentation of the organization's efforts at every phase. CAN-DO supporters take pride in watching their generosity directly affect the lives of those in need through the organization's VirtualVolunteer.tv.
CAN-DO's successful missions to bring immediate and direct relief to areas in need have captured the attention of renowned philanthropists including Oprah Winfrey and former president Bill Clinton. The organization was recently awarded the Global Compassion Award at the United Nations for its global impact, unparalleled transparency and accountability. For further information, please visit CAN-DO.ORG or email Eric Klein at ek@can-do.org.
About the Republic of Lakota:
The Republic of Lakota is an organization from the Sioux Indian reservations of Nebraska, North Dakota, South Dakota, and Montana dedicated to serving the Lakota communities through political activism, education, health, energy/economics, international awareness, and the promotion of sustainable/energy efficient housing. For further information, please visit republicoflakotah.com or call 605-867-1111.
###