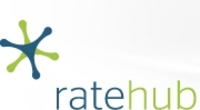 We take the industry one step further. We compare brokers against lenders and brokers against brokers to find the lowest rate. Success to RateHub.ca means seeing mortgage rates drop. Says Alyssa Richard , the 25 year-old entrepreneur behind RateHub.ca
(PRWEB) September 14, 2010
The migration of mortgages to the web is the latest phase in the evolution of mortgage services. Traditionally, Canadian homeowners obtained mortgages through their banks at relatively non-competitive rates. Independent mortgage brokers then entered the market — with volume discounts, and the ability to shop multiple brokers and lenders, independent brokers were able to offer more competitive rates than the financial institutions. Mortgage brokers now serve 39% of the Canadian market, up 12% from 2006. "We take the industry one step further," says Alyssa Richard, the 25 year-old entrepreneur behind RateHub.ca, who pitched the idea of online mortgage shopping from Hawaii, via Skype, to angel investors back home. She continues: "We compare brokers against lenders and brokers against brokers to find the lowest mortgage rate. Success to RateHub.ca means seeing Canada mortgage rates drop."
Since launching three weeks ago, Ratehub.ca has already intensified competition among ,mortgage brokers in Canada. Variable rates, for example, have dropped as low as 2.20 percent* in as many weeks. Brokers are scrambling to capture the volume of business the web has to offer by posting the lowest rates, and customers enjoy this completely transparent process from their personal computers. The rates, in effect, now come to them.
RateHub.ca connects Canadians with the lowest mortgage rates by comparing the top brokers and lenders in the market. Brokers who have joined think of the website as a chance to outsource their online marketing campaigns. They know how important social media and search engine marketing is but find servicing clients requires their full concentration. Displaying their rates on RateHub.ca gives mortgage brokers access to the almost 90% of first time home buyers who research mortgages on the internet, while saving them the hassle of online marketing.
Richard, formerly a management consultant with Bain & Company, intends to capitalize on the millions of online mortgage queries each month. Mortgage shopping can be an intimidating experience for many Canadians. As home buyers look to the web for more home financing options, mortgage rates will continue to fall. Independent brokers are hoping for a windfall.
###