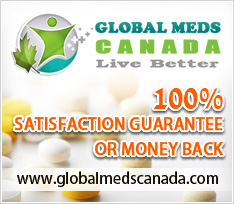 Live Better With Global Meds Canada
Surrey, British Columbia (PRWEB) August 24, 2012
GlobalMedsCanada, a prefacing Canadian pharmacy, today announced the launch of the mobile website. The mobile version of the website is a mirror image of the actual website except for the size. It is made more efficient for the customers to search and buy prescriptions. Customers can search and buy prescription, non prescription and pet medications. They can also check generic prescriptions for the brand Canadian drugs. The mobile website supports all major platforms like iPhone, iPad and ITouchPad.
GlobalMedsCanada has put forth a mobile website to fulfill the increasing customer demands. Looking at the current trend, everyone is either online on laptops or mobile phones. Major population uses mobile phones as it has become a handy device to buy something. As Anne Lotte, one of the loyal customers of GlobalMedsCanada says, "I am looking forward to the launch of the mobile website, since I need to buy prescription drugs for my mom every month and I cannot be online always on my laptop."
GlobalMedsCanada's search visibility shows that, most of the customers approach from the mobile phones. The Mobile website is fast and easy to browse. Customers can directly buy the products in a single click. This year saw a major increase in the launch of tablets by brand companies like Apple, Samsung, Lenovo etc. Hence, a rapid growth is noticeable in the web traffic coming through these devices. The experience of the Canada Pharmacy mobile website on an iPad is similar to a normal website except the touch feature of iPad. The GlobalMedsCanada mobile website is functional on many mobile phones which gives the customers many options for buying their prescriptions.
GlobalMedsCanada.com is an authorized Canada Pharmacy which offers prescription, non-prescription and pet medications. It also provides the generic medications of all the brand prescriptions. They provide free shipping worldwide with best priced prescriptions. By shopping at GlobalMedsCanada, customers can save much as compared to the local drug stores. They have a lowest price guarantee with quality going hand in hand.