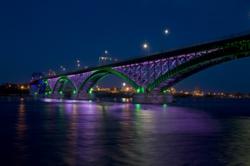 It's nice to see the progress in writing today on something that was agreed upon between politicians over a year ago.
Bradford, ON, Canada —
December 19, 2012 (PRWEB) December 19, 2012 -- The first annual Beyond the Border Action Plan Implementation Report was released this past Friday December 14th, catching the attention of industry figureheads like Joe Crupi of Bradford Moving & Storage that depend upon efficient logistical flow for businesses with interests at the Canada-U.S. border. The newly released report addressed the progress made in the initial 2011 agreement between Prime Minister Stephen Harper and President Barack Obama that created the Canada-United States Regulatory Cooperation Council and announced the Beyond the Border Declaration. The intention of the agreement purported to maintain and strengthen the interconnectedness between of the economies of Canada and the U.S. The two countries currently share the largest bilateral trading relationship on the planet and future successes for both countries rely upon continuing this relationship towards mutual benefit while still respecting the autonomy of one another. This detailed agreement is titled as the Beyond the Border Action Plan and last week the first annual Implementation Report was released. The new document is broken down into four parts; 1) Addressing Threats Early 2) Trade Facilitation, Economic Growth, & Jobs 3) Integrated Cross-Border Law Enforcement 4) Critical Infrastructure & Cybersecurity. Part 2 in particular evidences positive indicators for many industries entering 2013 – including the moving and relocation industry, and with it – Bradford Moving & Storage.
Bradford Moving & Storage is a full-service household, office, and commercial relocation company with a home base in the Greater Toronto Area (GTA). As a part of its day to day business, Bradford Moving serves as a long distance mover and sees a significant amount of business from across-the-border moves to and from the United States. With multiple border access points between Ontario and the states of New York and Michigan along with the close proximity of large metropolises to their counterparts on either side of the border it's of little wonder that this portion of the east coast sees much in the way of two-way migration for employment, investment, family ties, and general commuting. Joe Crupi of Bradford Moving references the December 2012 document with a few key notes that will benefit any business depending upon the improved border flow:

Identified and assessed means of facilitating border processes for trusted traders;
Harmonization of the C-TPAT and PIP programs including mutual recognition of each other's' onsite validations of participating companies;
Developed a plan to incorporate third-country traveler programs into the trusted traveler program NEXUS in addition to launching NEXUS enrolment blitzes to reduce backlogs and increase membership, implementing an improved renewal process, enhancing awareness of NEXUS, and expanding NEXUS access at jointly identified ports of entry;
Initiated negotiations for a new preclearance agreement for the land, rail, and marine modes;
Developed a detailed operational model for the truck cargo facilitation pilot project, including preparation for the upcoming deployment of the first phase, which is designed to test the concept of conducting U.S. pre-inspection at a land port of entry in Canada;
Developed the first-ever five-year joint Border Infrastructure Investment Plan covering coordinated upgrades such as customs plaza replacement and redevelopment, additional primary and secondary lanes and booths, and expanded or new connecting roads and highway interchanges.
Joe Crupi comments on the December 2012 Beyond the Border Action Plan Implementation Report "It's nice to see the progress in writing today on something that was agreed upon between politicians over a year ago. We can say as an international relocation company that we have seen improvements over time and from the looks of it 2013 and beyond will be even better for both individuals and businesses that depend upon improved Canada-U.S. border flow."
Joe Crupi and his long distance GTA moving company feels that any person, household, or business considering an across the border move should look at the Beyond the Border Action Plan Implementation Report as a move in the right direction and to contact his long distance Ontario moving company to learn more about the next step with respect to the logistics.
About Bradford Moving & Storage
Since 1980 Bradford Moving and Storage has been a family business and will continue to be so. Bradford Moving and Storage staff is rewarded based on performance, as evaluated from customer feedback. We are a full service moving company covering the Greater Toronto Area and beyond. For 30 years we've been helping families and corporations with local, national and international moves. Contact Bradford Moving and Storage today.