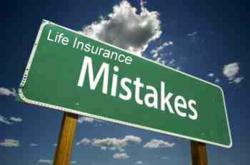 More Canadians need to know the importance of life insurance.
(PRWEB) June 28, 2013
Canadian life insurance agent, David Moulson of the President's Group, has seen many people make many mistakes time after time when it comes to filling out an application for life insurance in Canada.
These top 6 mistakes provided by David cover the most commonly misconceived things, along with tips to ensure these mistakes aren't made:
1. Don't lie on an application – This could put your family at risk if there is a claim and could get caught without coverage.
2. Don't visit a doctor right before the insurance medical exam – It can end up being extremely counterproductive.
3. Don't purchase too little coverage – Try to figure out what your family's expenses will be over the next 15-20 years.
4. Don't wait to buy until older – Just because you are healthy today is no guarantee that you or family members will be healthy in the future.
5. Don't have a casual smoke – No matter how little you smoke, if you have any at all, you will likely pay 2 to 3 times more what a non-smoker pays.
6. Don't plan an exotic vacation – Wait at least 2 years to plan an adventurous vacation or to a country with political unrest. You want to make it easy to get approved without this kind of risk.
"According to the Life & Health Insurance Foundation for Education, there are many myths that surround life insurance," says Moulson. "More Canadians need to know the importance of life insurance."
To find out more about David and what he can do to help you, "like" him on Facebook or follow him on Twitter (@David_Moulson).
About David Moulson:
Having been in the life insurance business for over 24 years, David prides himself in running his business with one simple idea: saving people money on the cost of their present life insurance and making sure they have the right amount of protection for the best price. He currently specializes in providing the professional and small business owner market with low cost term life insurance and tax advantaged permanent life insurance. To find out how David can help you, please visit: http://tpgdavid.ca/Home.html.