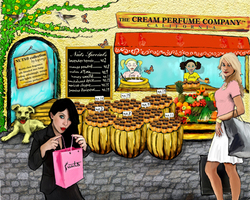 We are delighted and honored to have the Purity team join our international group of exclusive distributors. Backed by a reputation for exceptional customer service and with access to thousands of retailers and mass merchants in Canada, Purity allows us to effectively reach out to all Canadians who share an appreciation for natural and affordable personal care products
Monarch Beach, CA (PRWEB) August 17, 2007
The Cream Perfume Company of Monarch Beach, California, operating as LMCC Enterprises, announced today an exclusive Canadian distributorship agreement with Purity Life Health Products (Purity) a division of publicly traded SunOpta (Nasdaq: STKL TSX: SOY), based in Acton Ontario, who will represent their fast-growing nuts® brand of cream perfumes within the natural products category in Canada.
"We are delighted and honored to have the Purity team join our international group of exclusive distributors. Backed by a reputation for exceptional customer service and with access to thousands of retailers and mass merchants in Canada, Purity allows us to effectively reach out to all Canadians who share an appreciation for natural and affordable personal care products," said LMCC President Mary Johnston. "Our expansion into Canada is part of an overall aggressive international growth strategy targeting classic markets in the Asia-Pacific and European regions as well as Latin America."
The nuts® line of cream perfumes will make their official debut in Canada at the CHFA Expo East September 6-9 at the Metro Toronto Convention Center.
About The Cream Perfume Company:
We are an innovative designer and manufacturer of cosmetics and toiletries based in Orange County, California. The company caters to active lifestyle enthusiasts and to people all over the world who share an appreciation for natural, effective and affordable personal care products.
For additional information please contact:
Mary Johnston, President
The Cream Perfume Company
###