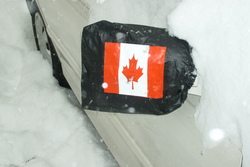 It's been great fun anticipating the daily mail delivery. Besides introducing MMMs to Canada, I'm learning a lot more about my neighbors to the north.
Drexel Hill, PA (PRWEB) December 29, 2009
Sometimes a marketing strategy for a product introduction can get an assist from a real life event. Sid Holmes, an entrepreneur who is launching his invention into the Canadian auto accessories market, has devised a marketing strategy that has garnered attention from the highest reaches of the national legislature.
A native of Drexel Hill, Pennsylvania, Holmes has been getting a lot of letters lately from the likes of Dalton McGuinty, Brad Wall and Robert Ghiz.
But why would the Premiers of Ontario, Saskatchewan and Prince Edward Island, respectively, and a host of representatives from other government offices, be corresponding with an unknown neighbor to the south?
Because over the fall, Holmes sent dozens of government officials a special-edition version of his product, which has a surefire appeal for Canadian motorists: water-repellent, fabric covers that protect car and truck side view mirrors from snow, ice and frost.
A communications professional by trade, Holmes was inspired to create the covers – dubbed MirrorMateMItts – several years ago when he nearly broke his car mirror while removing ice with a plastic scraper.
Thinking the proverbial "there's got to be a better way," he fashioned the first 'MMMs' by hand sewing a pair himself. After requests from neighbors wanting their own covers, Holmes decided to sell the product through the internet. He started a company, MMM Tech, LLC, struck a deal with a manufacturer in the Midwest and set up an online store (http://www.mirrormatemitts.com), beginning sales in the U.S. two winters ago. This year, he figured, Canada, with an even snowier climate, would be a logical extension for MMM sales. But he needed a way to attract attention to his product.
Noticing that Canada's House of Commons was considering a rewrite of the national motto to "From Sea to Sea to Sea", reflecting the Arctic Ocean, Holmes found his publicity angle for the MMMs; he silk-screened the national flag on one side and a maple leaf with the proposed motto in English and French (it is Canada, after all) on the other side.
The commemorative cover was sent along with a plain black MMM to the leaders of the 13 provinces and territories, as well as to various members of parliament supporting the motto change.
The strategy is working well as letters have been arriving every week at the MMM Tech office since November. So far, Holmes has also received thank yous and letters of support from representatives of the Premiers of Québec and Newfoundland Labrador, as well as Marjory LeBreton, Government Leader in the Senate and Governor General Michaëlle Jean. One premier has forwarded the covers to a government minister for consideration.
"It's been great fun anticipating the daily mail delivery," Holmes admits. "Besides introducing MMMs to Canada, I'm learning a lot more about my neighbors to the north."
MirrorMateMitts are available at the MMM online store at: http://www.mirrormatemitts.com
For more information about MirrorMateMitts visit:
http://www.prweb.com/releases/winterize/snow/prweb3376964.htm
To help prepare your car for winter weather visit: http://www.winter-car-care.com
For more information, contact Sid Holmes at 215.470.2993
###