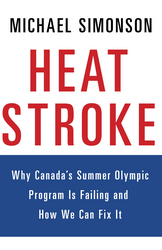 "Unless Canadians start speaking to the importance of sport, we are at risk of losing a large piece of our cultural fabric in Canada," says Michael Simonson. "We need to examine Canada's Winter Olympic system and implement many of these ideas and programs
Calgary, AB (PRWEB) March 2, 2010
In Vancouver, Canada won a record fourteen Olympic gold medals. Comparatively, Canada won twelve Olympic gold medals at the last four Summer Olympic Games combined. Heatstroke examines the systemic causes of Canada's Summer Olympic failures against the backdrop of the country's increasing Winter Olympic success and the rise of summer athletes in Australia, a country that used to trail in summer sports as Canada does now.
Written with an understanding of Canada's wide-ranging affection for sporting activities, Simonson advocates immediate action if sport is to maintain a place in our cultural identity.
"Unless Canadians start speaking to the importance of sport, we are at risk of losing a large piece of our cultural fabric in Canada," says Michael Simonson. "We need to examine Canada's Winter Olympic system and implement many of these ideas and programs if our summer athletes are going to be successful."
Simonson speaks about the politics that lie beneath the surface of Canada's Olympic movement, as well as within the country's amateur sport system, coaching ranks and amongst athletes themselves. He argues that Canada's summer athletes can replicate the success that Canadians have come to expect of their winter counterparts without it requiring a fundamental shift in societal and fiscal priorities.
"WinSport has demonstrated the ability to develop world-class athletes right here in Canada," says Gordon Ritchie, chair of WinSport Canada. "There is nothing to suggest that a similar model couldn't be employed for Canada's summer athletes."
With interest in amateur sport greater than it ever has been, there is no better time for change than now. In Heatstroke, Simonson provides his own plan that will help restore our sporting legacy at the Summer Olympics while maintaining our present rate of success at the Winter Games.
The book is available at Amazon and also at http://www.heatstrokethebook.com for $19.95.
###