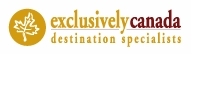 For the first time in a long time, the currency exchange rate significantly favors the U.S. dollar making travel to Canada much more affordable for U.S. visitors
North Vancouver, BC (PRWEB) December 9, 2008
For a limited time only, Exclusively Canada Ltd. is offering huge savings on bookings in December 2008 for peak season summer 2009 Cross Canada and Rocky Mountain Rail Vacations. Plus pay in U.S. currency and receive guaranteed 20% benefit on currency conversion because of stronger U.S. dollar. Book between now and December 31, 2008 to take advantage of this offer for travel in the peak season of June 1 and August 15, 2009.
"For the first time in a long time, the currency exchange rate significantly favors the U.S. dollar making travel to Canada much more affordable for U.S. visitors," says Shannon Wilkinson, Vice President of Marketing at Exclusively Canada Ltd. "The fact we have not seen rates like this since 2004, combined with an extraordinary Rail Vacation Sale, makes for unprecedented savings on some of the most desirable train trips in the world. We do not hesitate to call this the Greatest Canadian Train Sale Ever!"
For additional information on this exciting promotion, contact Shannon Wilkinson or visit http://www.canadayourway.com/offers/37.html
Exclusively Canada Ltd. (http://www.exclusivelycanada.travel) was founded in October of 2002 to provide group and fully independent vacation planning and packaging services to North American travel agencies and affluent international travelers. In 2004 the company launched its consumer direct strategy under the brand CanadaYourWay (http://www.canadayourway.com). Exclusively Canada has grown rapidly to become one of the world's top marketers of independent luxury travel in Canada.
Exclusively Canada Ltd. is an active member of the Association of Canadian Travel Agencies (ACTA), the National Tour Association (NTA), the Tourism Industry Association of Canada (TIAC), and an annual participant at Rendezvous Canada, Canada's premier international tourism industry marketplace.
Contact:
Shannon Wilkinson, Vice President Marketing
Exclusively Canada Ltd.
998 Harbourside Drive, Suite 229
North Vancouver, BC V7P 3T2
Canada
Phone: 604-983-6650
Fax: 604-983-6651
# # #