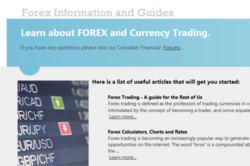 Not many people know that the currency market is the largest market in the world, dwarfing both the stock and bond markets.
(PRWEB) April 24, 2013
CanadaBanks.net announces the launch of a new forex section (http://forex.canadabanks.net/) to help Canadians to learn more about currency trading, platforms, and strategies.
The new section adds to the wealth of information on CanadaBanks.net which features comprehensive reviews of Canadian banks and their services. Given the ever increasing importance of currency markets, the content development team at CanadaBanks.net decided to create a section dedicated to Forex trading.
"Not many people know that the currency market is the largest market in the world, dwarfing both the stock and bond markets. Considering this, it is important for investors to understand how the FOREX market works," said John Williams, marketing consultant at CanadaBanks.net
The currency market is the world's most liquid market, with a daily turnover of more than a trillion dollars. This busy marketplace offers exposure to a highly technical and complex form of trading. Understanding price patterns and reactions, positions, mispriced currencies, and how the Forex market works can help investors to make wise capital deployment decisions. There are different trading strategies such as technical tracking methods and purchasing power parity. Some investors are experienced in currency trading, others speculate on price movements, and still others hold foreign currencies as a hedge against devaluation. Even those who do not fall in any of these categories will benefit from learning more about currency market fluctuations. The new Forex section helps visitors to read technical signals, understand market dynamics, and find profitable trades.
Forex is a volatile market where different factors can shift the balance between sellers and buyers. The new section discusses these factors and offers information on how to choose a trading platform, use Forex charts, and manage accounts. Visitors will learn about various currency exchange option types and strategies to minimize risk and become a better investor. While the currency market was once the exclusive domain of corporate investors and large financial entities, today it is accessible to millions of individual investors.
About CanadaBanks.net: http://www.Canadabanks.net is an informational resource, focused on the Canadian banking industry.