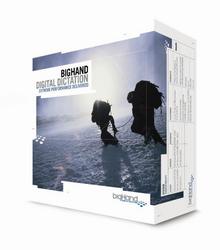 Ottawa, Canada (PRWEB) December 4, 2008
Ridout & Maybee LLP, one of Canada's leading intellectual property and technology law firms, today announced it has fully implemented the BigHand Digital Dictation system. This has resulted in significant administrative improvements. In particular, Ridout & Maybee LLP has reported considerable enhancements to workflow. Early indications are that the firm will achieve a full return-on-investment.
Janet McEwan-Konink, Manager - Workflow at Ridout & Maybee LLP:
"We evaluated a number of products such as Verdatum, Philips and Crescendo in our search to replace our Dictaphone system, but it was clear BigHand gave us everything we required in terms of functionality, stability and visibility. It is user-friendly, offers an email 'look and feel' with in-built alerts, familiar reporting capabilities all which have been incorporated with legal users in mind.
The results have exceeded our expectations. It is now much easier to move dictation both within the office and the firm."
BigHand Digital Dictation is used by over 700 law firms worldwide and was voted 'Mobile Product of the Year' at the CNET Business Technology Awards 2008. BigHand has also been nominated in the Sixth Annual Law Technology News (LTN) Awards for 2009 as 'Dictation System of the Year' and 'Mobile Tool of the Year'.
For more information about BigHand Digital Dictation, please visit http://www.bighand.com.
Contact:
Dan Speed, VP Marketing, BigHand. Tel: +1 312 893 5906
Jobst Elster, Envision Agency. Tel: +1 850 385 4599
About Ridout & Maybee LLP
Grounded in tradition and history since 1893, Ridout & Maybee LLP is one of Canada's oldest intellectual property law firms with offices located in Toronto, Ottawa and Mississauga.
Strategic guidance and innovative thinking are paired with our client-centric approach to deliver quality IP legal services.
We understand the business of innovation. Our professionals have degrees and qualifications in law, science, engineering and information technology, which help us to better understand the role of intellectual property in your business.
We customize our approach to meet the specific operating needs of the client. Accessibility and responsiveness are key; our advice is practical, timely and cost effective. Our strength is in the dedication and commitment to securing the competitive position of our clients.
Legal Services - Patents, Trade-marks, Industrial Designs, Copyright, Trade Secrets, Licensing & IP Transactions, Litigation, Mediation & Arbitration.
About BigHand
BigHand is based out of Chicago, London, Sydney and Toronto. BigHand is the leading digital dictation vendor in the global professional services sector. BigHand3 was awarded 'Best of Breed System of the Year' at the Legal Technology Awards for 2008, and BigHand Mobile (BlackBerry Edition) was voted 'Mobile Product of the Year' at the CNET Business Technology Awards 2008. BigHand has also been nominated in the Sixth Annual Law Technology News (LTN) Awards for 2009 as 'Dictation System of the Year' and 'Mobile Tool of the Year'. Further information is available at http://www.bighand.com
###