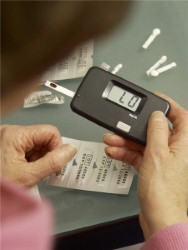 New York, NY (PRWEB) July 21, 2011
People who have diabetes may have a greater risk of hearing loss, according to research from Tsukuba University Hospital Mito Medical Center in Ibaraki, Japan.
RxList.com reports that lead author Hirohito Sone and his colleagues advised doctors to routinely screen diabetics for auditory problems in addition to other ailments, such as eye and kidney damage. The team performed an analysis of 13 different studies that showed evidence for the link between the glucose disorder and hearing loss.
The researchers compiled information on nearly 8,800 patients with hearing impairment to come to their conclusions. Of the study subjects, more than 1,000 had diabetes. The team compared this data to that of 23,839 people who did not have hearing problems, about 2,500 of whom were diabetics.
The reasons behind the connection were unknown, according to the scientists, who presented their findings at the annual meeting of the American Diabetes Association.
However, osteopathic physician Pamela D. Parker suggested that damage to the blood vessels may contribute to the development of hearing loss. According to this theory, high blood sugar levels may lead to the deterioration of the blood vessels in the inner ear. This process may make it more difficult for patients to hear.
Statistics from the American Diabetes Association reveal that nearly 26 million Americans have the glucose disorder, many of whom buy Actos from a Canadian internet pharmacy to help maintain regularity of blood sugar levels. Nearly 34.5 million individuals in the U.S. have some type of hearing loss.
In 2008, a study demonstrated that more than half of diabetics were unable to hear high frequency tones, compared to only 32 percent of healthy individuals. Meanwhile, 21 percent of patients who had diabetes could not hear low-to-mid frequency tones, while only 9 percent of those in the general population had difficulty.
At the conference, Sone and his team revealed that people who have diabetes are up to 2.3 times more likely to experience mild hearing loss. This type of auditory issue is defined as having trouble hearing other people who are standing three feet away and speaking in a normal voice.
The National Institute on Deafness and Other Communication Disorders reports that among Americans over the age of 65, about 12.3 percent of men and 14 percent of women are affected by a type of hearing loss called tinnitus, which is more common among Caucasians and those who live in the South.
Celebrate summer with our Promotional Code
To celebrate summer, CanadaDrugCenter.com is offering even more savings. Simply enter the promotional code CDCPR2011 when prompted at checkout and your order will be shipped for free. You will also receive an additional $10.00 off your total purchase price.
Visit our Online Canadian Pharmacy at CanadaDrugCenter.com today and see how you can save money on your prescription medication and over-the-counter needs.
###