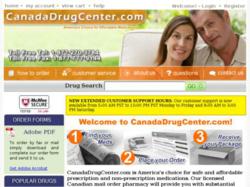 New York, NY (PRWEB) July 27, 2011
Canada Drug Center, one of the leading Canadian online pharmacies, recently announced that they will be open on Sundays for customers' convenience.
The Canadian International Pharmacy Association (CIPA) approved resource for reasonably priced drugs has generated a loyal online fanbase, reaching more than 5,000 followers on Twitter and 4,500 fans on Facebook. The organization offers cheap medication from Canada to Americans who may otherwise struggle to pay for the products they need.
Financial stability is a major concern for many Americans. Being able to provide for themselves, their children and their elderly parents is at the top of most people's priority lists. However, this is not always possible. The economic downturn has made it difficult for lower-income individuals to keep afloat of their bills, let alone take care of family members. Poor health can exacerbate the situation, especially since many prescription medications in the U.S. are very costly.
Currently, the rate of unemployment in the U.S. is about 9.2 percent. Those without work cannot afford to pay for medications that they or their family members need in order to stay healthy. Additionally, they may not have adequate insurance to cover their prescription drugs.
This issue is compounded for Americans in their 50s, 60s and beyond, since many of these individuals are on the verge of leaving the workforce. Buying cheap medication from Canada may be a viable option for them, particularly if they make their purchases through a Canadian online pharmacy like Canada Drug Center.
Buying medicine from a Canadian internet pharmacy may not only be cheaper than acquiring drugs from a brick-and-mortar facility, but it can also be more convenient. Seniors who have debilitating conditions or people who simply do not have enough time to wait in a long line may appreciate the convenience of ordering products online and having it shipped directly to their homes.
Buying cheap medication from Canada can be a safe, effective process if patients buy through a reliable Canadian online pharmacy. Experts recommend that these individuals look for CIPA-approved resources that require a prescription from the consumer's physician in order to process a purchase. Doing this can help people get the drugs they need in order to stay healthy and save money at the same time.
###