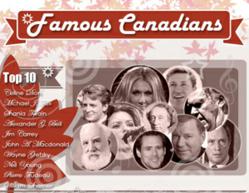 Canada is the home country of many famous authors, politicians, scientists, musicians, and movie stars that every Canadian should be proud of
Toronto (PRWEB) October 10, 2012
Art Branch, Inc., the parent company of CanadaFAQ.ca announced today the publication of a new infographic (http://www.canadafaq.ca/famous-canadians.php), targeted at anyone who is interested in finding more about famous Canadians.
Designed by Tsveta Todorova, the lead web designer at Art Branch Inc., the infographic was created as a visual representation of the ways in which the work of influential Canadians has influenced and shaped society and contributed to human progress.
"Canada is a developed and prosperous country, and this is due to many factors. These include advanced economy and the presence of diverse and tolerant society that makes immigrants feel at home. Canada is also the home country of many famous authors, politicians, scientists, musicians, and movie stars that every Canadian should be proud of," said John Williams, marketing consultant at Art Branch, Inc.
The new infographic presents a virtual Canadian Hall of Fame and includes influential Canadians who have contributed to scientific and social development, economic security and prosperity, and the creative arts. Famous sports stars, scientists, politicians, and singers became successful in their field. Research efforts led to important discoveries and breakthroughs, which made a revolutionary change in the sciences. They contributed to understanding viral diseases, demystified different phenomena, and helped lay the foundations of many disciplines. Influential people expanded the boundaries of knowledge and shaped human history. Researchers such as Richard Taylor, Sidney Altman, and Ernest McCulloch are visionaries and revolutionaries who made ingenious inventions. Many Canadian painters and singers are futurists who made important artistic contributions. They created innovative styles and forms, set trends, and depicted different historical periods. Influential businessmen, sportsmen, inventors, and artists made positive contributions to society, and their ideas and work will shape the future.
The new infographic was designed to show visitors that Canada is the home to influential people who were visionaries and history-makers.
About CanadaFAQ.ca: CanadaFAQ.ca is an informational resource developed by Art Branch, Inc. and designed to offer unbiased information on anything Canadian.
About Art Branch: Art Branch, Inc., located in Toronto, Ontario, is the parent company of Infographic.ca and has produced many consumer oriented websites targeting Canadian and international audience. The goal of Art Branch is to provide visitors to company sites with free, practical guides, helping consumers to make educated choices.