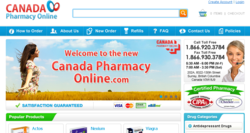 Preliminary feedback on the new design has been positive; customers are really enjoying how easy it is for them to place and refill their prescriptions.
Vancouver, BC (PRWEB) December 20, 2011
Canada Pharmacy Online, a leading Canadian online pharmacy, has announced a new website design for http://www.CanadaPharmacyOnline.com. The new design improves both the look and feel of their product site. The website redesign has integrated a brighter, more approachable color scheme, echoing the bright whites and clean lines of their brick and mortar pharmacy.
The new site also addresses a broad range of factors that go into web design and development, including the integration of web technologies and the improvement of user interfaces. It is a completely new website design, which incorporates Flash, Javascript, PHP, and HTML web technologies. Customer factors are considered throughout the web design process. The new design also features a comprehensive navigation bar at the top of the home page, including "How to Order", "New Order", and "Refills." The menus provide easy access for Canada Pharmacy Online's array of customers. The goal of Canada Pharmacy Online is to increase the customer's satisfaction and improve usability.
As part of the design changes, CPO has added new elements which are different from the previous design. The first element is the Popular Products area, where Canada Pharmacy Online's customers can buy Plavix and buy Motilium, some of the pharmacy's top sellers. This area allows customers to see the top medications, and each medication's best price and popular dosage. The second element of Canada Pharmacy Online's revamp is the Drug Categories pane. Here, medications are classified according to its uses, such as antidepressants and blood pressure medication. This allows the customers to browse the prices and brands of their prescription type. Another exceptional feature is the complete common drug references presented to customers. These include prescription information, side effects, price, precautions on pregnancy and safety, customer reviews, and interactive product videos.
Canada Pharmacy Online is proudly serving 500,000 satisfied customers and has over six years of experience in providing excellent customer support. CanadaPharmacyOnline.com is a safe and licensed Canadian pharmacy which carries over 1,000 prescription (RX) and non-prescription (OTC) drugs for mail order customers. It is verified by PharmacyChecker and the Canadian International Pharmacy Association (CIPA).
###