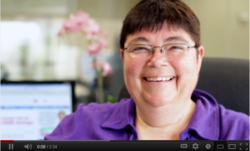 Canada Pharmacy Online, in order to better serve its customers, has created this online ordering process video, and is also expanding its multilingual services.
Vancouver, BC (PRWEB) August 29, 2012
Canada Pharmacy Online, a leading Canadian and international pharmacy, has recently released a short film detailing its online ordering process. The video, hosted on YouTube, is narrated by Margaret, a Canada Pharmacy Online employee, who gives customers step by step instructions on how to order their medications online. The method has been streamlined for easy ordering of any medication, whether it be a prescription drug such as generic Advair or an over the counter (OTC) medication.
The video details the process from start to finish, starting with searching for your prescription medication, visiting its product page, adding it to your cart, and creating your own 'Customer Login.' From there, customers can choose their billing method, double check their contact information, and send in their prescription. This is the most important step; For worldwide and Canadian drug prescriptions to be filled, the doctor's script must be completely accurate. Canada Pharmacy Online is a proud CIPA member and only fills Rx orders with a corresponding prescription.
Canada Pharmacy Online has created this video in order to better serve its worldwide customer base. The management team has already recruited customer service representatives from multiple countries, who can provide service in more than six different languages, including English, French, Spanish, Punjabi and Hindi. Canada Pharmacy Online has also partnered with prescription fulfillment centers around the world, giving their customers freedom of choice in their medications' manufacturer. They may also choose to have it shipped from the fulfillment centre closest to their home.
Canada Pharmacy Online is one of the top international and Canadian pharmacies specializing in generic alternatives to pricey brand name medications. They opened their online division in 2004, and have since filled over 900,000 prescriptions from around the world. Canada Pharmacy Online often partners with Canadian content or informational websites such as http://www.RosuvastatinOnline.com and http://www.montelukast.us. Canada Pharmacy Online allows patients freedom of choice with their prescriptions, access to treatment and symptom information, and reliable ways to save even more on their medications. They may buy Retin A or generic Crestor 40mg for significantly lower prices than they could find locally. Canada Pharmacy Online is proudly verified by PharmacyChecker.com and is a member of the Canadian International Pharmacy Association (CIPA).