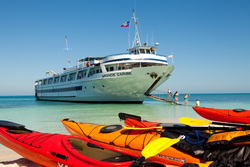 Small has always been big for us. It's what set us apart from the very beginning and allowed us to deliver unique cruise experiences to places few others can get to. Our passengers love going where others cannot!
Warren, RI (PRWEB) May 25, 2010
American Canadian Caribbean Line, a family-owned small ship cruise line established in 1966, announces it has changed its name to Blount Small Ship Adventures.
According to President Nancy Blount, the re-branding is a natural outgrowth of many positive changes taking place at the company. "Over the past year, we placed an enhanced focus on developing new destinations and types of cruise experiences," she states. "We made a concerted effort to stay true to our roots while delivering the kinds of cruise itineraries today's travelers want. Our primary goal was, and still is, to create adventures to places few others can get to."
While the trend today is to go smaller – with cars, phones, computers – ACCL has always relished 'small.' "Small has always been big for us. It's what set us apart from the very beginning and allowed us to deliver unique cruise experiences such as through the Erie Canal or right up onto the beach of a remote island paradise in Belize," Ms. Blount explains. "For 45 years, ours has always been an intimate, personalized experience for travelers who enjoy hassle-free travel to unique destinations, leaving behind a smaller footprint and going beyond traditional cruising."
The new name is a tribute to ACCL founder Capt. Luther H. Blount, founder of the line, who passed away in 2006. "Our name now explains the type of cruise we operate – small, informal, yacht-style – rather than the locales we visit," notes Ms. Blount, one of three daughters of Capt. Blount who run both the family-owned cruise line and a thriving shipyard. "It's reflective of my father's spirit of adventure which lives on today. There's no question he has left his mark on the industry and continues to be remembered as a travel visionary."
Capt. Blount designed and built a fleet of one-of-a-kind vessels that could take him and his passengers to places no one else could get to. He coined the marketing slogan, "Go where the big ships cannot" to describe the small ship adventure that is perpetuated as the Blount brand. His ships feature patented innovations such as the bow ramps that allow passengers to disembark the vessel right onto the beach, and retractable pilothouses for sailing underneath low bridges and tropical overhanging vegetation. The most recent fleet has been retrofitted over the past three years, with the latest ship – the 100-passenger M/V Grande Mariner – scheduled to be completed before its May 23, 2010 departure from the cruise line headquarters in Warren, RI to Chicago. Renovations include updates and improvements to cabins, washrooms and common areas.
"It wasn't uncommon for my father to get in a boat and navigate uncharted waters such as the Orinoco River, Rio Dulce or even the shallows of The Bahamas to personally discover a new itinerary," Ms. Blount adds. "Other cruise lines would imitate but could never duplicate the Blount experience. In some areas, our boats remain the only overnight passenger vessels that can navigate the scenic, coastal waterways thanks to their unique design. Our passengers love going where others cannot!"
The cruise line has added new itineraries and ports of call to the Blount
Small Ship Adventures 2011 schedule such as New York City to Toronto and Ontario's Georgian Bay region. Popular Caribbean itineraries have returned to the schedule as well featuring including St. Maarten and Antigua, the Virgin Islands and The Bahamas. Onboard programs including culinary demonstrations, wine tastings, and performances have been developed as well as in-port kayaking and bike activities. New ships are in the plans, too.
"After working for my father for the past 30 years and most recently in taking the helm of his company three years ago, I've come to a greater appreciation of his accomplishments and all that he was," Ms. Blount concludes. "We are proud to honor his dreams of new adventures and his vision about how to deliver them in a way no one else can match. We may be changing our name, but we've never been closer to what my father intended his original vision to become."
Blount Small Ship Adventures (formerly known as American Canadian Caribbean Line, Inc.) is a small ship cruise line specializing in unique coastal itineraries which appeal to active mature travelers. At the helm is President Nancy E. Blount, a second-generation owner of this family business founded in 1966. The company operates three U.S.-registry and U.S.-crewed ships - the newest fleet in the industry - along the eastern seaboards of the U.S., Canada, Caribbean and Central America. Each ship (66-98 passengers) features patented designs such as a retractable pilothouse and shallow-draft bow landing ramp that enable them to access remote destinations larger ships cannot. BSSA is a member of the Niche Cruise Marketing Alliance and Better Business Bureau, The cruise line is located at 461 Water Street, Warren, RI 02885. Phone: (800) 556-7450. Web: blountsmallshipadventures.com.
###