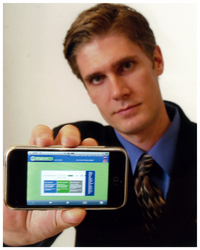 People come to eDrugSearch.com to save money, and this will be another way for them to do that.
San Antonio, Texas (PRWEB) April 28, 2008 -
eDrugSearch.com, the Health 2.0 social network and comparison shopping site for prescription drug consumers, announced today that it has generated more than $2.1 million in sales for member pharmacies through 875,000 visitor referrals from its comparison shopping engine. This includes an estimated $435,000 in March, based on 175,000 referrals to member sites.
"eDrugSearch.com has established itself as one of the Web's fastest-growing vertical search engines and comparison shopping sites since our launch last year," said Cary Byrd, president and founder of eDrugSearch.com. "Our visitors know they can trust the quality and service of the pharmacies in our database -- and trust us to deliver lower prices on prescription medications than they can find elsewhere."
From Comparison Shopping Engine to Health 2.0 Social Network
eDrugSearch.com launched in January 2007 as a vertical search engine enabling comparison shopping for Americans interested in purchasing safe, low-cost prescription drugs from prescreened international pharmacies. With more than 50,000 drug listings, eDrugSearch.com brings together licensed and accredited pharmacies from around the world in one comprehensive, easy-to-use database.
In February of this year, eDrugSearch.com expanded its mission by launching a social network, the eDrugSearch.com Community, that enables site visitors to rate and review drugs and pharmacies; monitor the latest FDA updates, price changes and other news related to their current drug regimens; and share experiences with others taking the same drugs or who have similar health conditions.
Site Has Experienced Increase in "Stickiness"
Byrd said that in just two months, the eDrugSearch.com Community has already led to a dramatic increase in the amount of time the average visitor spends on the site - which he says has led not only to overall growth in sales, but to an increase in sales per visitor.
"Before we launched our social network, most of our visitors bought some - but not all - of their prescription drugs through our site," explains Byrd. "Thanks to the community, we're beginning to form much stronger and more personal relationships with these customers. The site is 'stickier' now.
"One result of this is that more of our members are choosing to purchase all of their medications through eDrugSearch.com."
Byrd added that eDrugSearch.com soon will offer exclusive drug discounts to members who actively participate in the eDrugSearch.com Community.
"To reward community members for their involvement, we give them eDrugSearch.com Points, which will be redeemable for drug discounts at participating pharmacies," Byrd said. "People come to eDrugSearch.com to save money, and this will be another way for them to do that."
Success Without Advertising
Byrd said that eDrugSearch.com has clearly struck a chord with consumers, as evidenced by the fact that it has grown through word of mouth, without the benefit of advertising.
"We've done no pay-per-click, no banner ads. We've used a variety of SEO strategies, in addition to the eDrugSearch Blog and Healthcare 100 blog ranking system, to attract interest in our site," Byrd said. "The Healthcare 100, in fact, was recently mentioned in the Wall Street Journal. We've also attracted TV and newspaper coverage and received good buzz online."
Praise from Member Pharmacies
eDrugSearch.com has earned kudos from member pharmacies:
David Janeson, owner of Winnipeg, Canada-based Jandrugs -
"eDrugSearch.com has helped Jandrugs reach out to many new customers who would otherwise not be aware of our service. The third-party validation from eDrugSearch.com and customer reviews let potential customers know that Jandrugs is a safe and professional pharmacy for patients to fill the prescriptions they need at substantial savings. "
Barry West of Sydney, Australia-based MedStore International --
"We carry the eDrugSearch.com seal on our site and invite visitors from all sources to click through to eDrugSearch.com to confirm our profile and read ratings and reviews. We receive visitors each day directly from the eDrugSearch.com site - customers who might never have heard about us unless we had our listing on eDrugSearch."
The eDrugSearch.com Difference
More than 65 million Americans - nearly one quarter of the country's population - live without prescription drug insurance. While many U.S. consumers look to Canadian or other non-U.S. pharmacies as a means of saving money, they are often concerned about whether they can trust the quality and safety of the prescription drugs they find online. eDrugSearch.com reassures these consumers by only accepting pharmacies that pass an 11-point prescreening process - including proof of home-country licensing and third-party accreditations.
In addition to emphasizing safety, eDrugSearch.com offers a comparison shopping engine featuring up-to-the-minute price search, advanced search options, and other features that make it the most comprehensive shopping site for prescription drugs. eDrugSearch.com's search function enables members to identify pharmacies with specific licensing requirements, third-party accreditations, Better Business Bureau memberships, and more.
Consumers can register for a free membership with eDrugSearch.com at the following url: http://www.edrugsearch.com/register.
About eDrugSearch.com
Based in San Antonio, eDrugSearch.com is the Health 2.0 social network and comparison shopping site for U.S. consumers seeking prescription medications from prescreened Canadian and other international pharmacies. eDrugSearch.com's social network empowers members to rate and review pharmacies, share experiences with other members, and more. eDrugSearch.com president and founder Cary Byrd is an impassioned advocate for reform of U.S. prescription-drug law. For more information, visit the company's Web site at http://www.eDrugSearch.com or its blog at http://www.edrugsearch.com/edsblog.
###