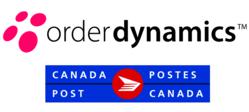 OrderDynamics integration with Canada Post's eCommerce services has proven to be a feature that our customers are already making great use of.
Toronto, ON (PRWEB) November 06, 2012
OrderDynamics™, Canada's leading on-demand commerce platform provider, today announced the first integration of Canada Post's eCommerce services into their platform, creating the most comprehensive eCommerce platform in the country. This integration, in addition to French Canadian language and built-in Order Management and Fulfillment capabilities, is the latest step the company has taken to accelerate eCommerce growth for Canadian retailers.
Retailers using the OrderDynamics eCommerce platform will be able to offer online shoppers additional transparency, information, and convenience prior to and after all transactions. Specific functionalities and benefits related to this integration include:

Deliver to Post Office: In addition to shipping to any physical address, shoppers will also have the option to have purchased items delivered to one of the 6,500 Canada Post outlets of their choice.
Real-Time Rate Lookup: Retailers will be able to provide online shoppers with accurate shipping cost estimates on goods they may purchase prior to checkout.
Real-Time Tracking Updates: Shoppers can log into the My Account section of the website they recently purchased from to get real-time updates and information on shipping and processing status.
Generate a Return Label: Shoppers looking to return purchased goods will be able to download and generate a return label packing slip directly from the My Account section of the website they purchased from.
Canadian women's apparel retailer, Laura Canada, have already begun leveraging these functionalities as part of their recent launch into online retailing with OrderDynamics. The national retailer, with more than 107 stores across Canada, believes these integrated capabilities will enhance Laura.ca and help deliver a premium shopping experience for their customers.
"Our goal is to provide the absolute best shopping experience for our customers across all sales channels," said Sam Barnes, Director of eCommerce at Laura Canada. "The on-site experience, ongoing service, and quality of fulfillment, are all key to our eCommerce strategy. OrderDynamics integration with Canada Post's eCommerce services has proven to be a feature that our customers are already making great use of. These integrations helped Laura immediately achieve several short and long-term goals for our eCommerce channel," Mr. Barnes added.
"Canada Post offers an unparalleled network for any retailers. By integrating our eCommerce services to the OrderDynamics platform, we are providing the most seamless customer-enabling experience on the market today," said René Desmarais, Senior Vice President, Parcels, at Canada Post.
"Integrating Canada Post's eCommerce services into the OrderDynamics eCommerce platform enables merchants to create a more transparent shopping experience for consumers," said Michael Benadiba, CEO at OrderDynamics. "This integration, along with other recent platform upgrades, demonstrates our commitment to providing Canadian retailers with best-in-class retail and eCommerce solutions that connect online and in-store sales channels," Mr. Benadiba concluded.
About Canada Post
Canada Post is the country's leading provider of business-to-consumer delivery. By reaching more than 15.1 million addresses, and operating the country's largest retail network of nearly 6,500 post offices, Canada Post is ideally positioned to offer affordable and reliable service, with convenient pick-up and return options. Together, Canada Post, Purolator Inc. (Canada's largest logistics company) and SCI Logistics offer market-leading end-to-end solutions for e-commerce shippers by leveraging the assets and expertise of the Canada Post Group of Companies
About OrderDynamics
OrderDynamics Corporation is a leading eCommerce platform solution for multi-channel retailers to connect physical stores with eCommerce websites and mobile applications through seamless integration of client data, cross-channel marketing and loyalty programs, and backend technologies. The OrderDynamics Software-as-a-Service solution enables brick and mortar retailers to create unified shopping experiences for consumers across any commerce channel to drive growth and improved retail efficiency. OrderDynamics proudly powers integrated online commerce channels for leading retailers such as Henry's Camera, Laura Canada, JYSK, American Diabetes Association, Pilot, Walking on a Cloud, Kitchen Stuff Plus, Town Shoes/The Shoe Company, Nutrasource, and more.
For more information about OrderDynamics, visit http://www.orderdynamics.com, call 866-559-8123, or email solutions(at)orderdynamics(dot)com.