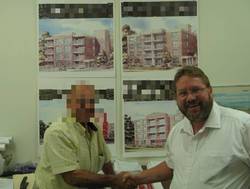 "Thanks to Canadian Funding Corporation, we were able to develop this 34 unit premiere condominium project which will be anchor project. Thanks Moishe." - Vince C., Ontario
Thornhill, Ontario (PRWEB) February 25, 2010
Canadian Funding Corporation, in conjunction with its CEO, Moishe Alexander, recently funded a 34 unit condominium development in Southern Ontario. The project, which has now been completed, is 100% sold out.
Moishe Alexander and his co-lenders funded the deal with no presales when the bank said no. The project is now complete with 100% sell out and the developer says "Thanks to Canadian Funding Corporation we were able to develop this 34 unit premiere condominium project which is 100% sold out and will be another anchor project, Thanks Moishe".
Moishe Alexander noted that the economics of the deal made sense, even though it did not meet the criteria that banks use for funding. As a result, the Canadian Funding Corporation was able to provide funding.
About Moishe Alexander and the Canadian Funding Corporation
As Founder and President of Canadian Funding Corporation, Mr. Moishe Alexander has led the way in funding commercial mortgages and small to large construction projects, including large multi-residential building sites.
When no other lender would assist families in need of a third mortgage to save their homes, Mr. Moishe Alexander provided the necessary relief. Moishe Alexander led his team of real estate and mortgage lending experts at Canadian Funding Corporation in creating a specific funding plan to keep families in their homes.
Canadian Funding Corporation was developed in 2005 by Moishe Alexander and is based out of the greater Toronto, Ontario area. By competently assessing the risks involved, Moishe Alexander is able to analyze all options available and provide the best solution for his respective clients, even if banks or private lenders have turned them away before. Through Canadian Funding Corporation and the large network he has acquired in the mortgage and finance business over the past three years, Moishe Alexander has access to over $75 million in private funds and, therefore, is able to fund just about any transaction.
Mr. Moishe Alexander is also a philanthropist and donates a great deal of his personal time to the community. Moishe Alexander enjoys helping the poor and families in need, regularly donating to charities such as the United Chesed Charity, the Jada Foundation, the Humane Society, and the Canadian Cancer Society. When not working at Canadian Funding Corporation, Moishe Alexander is busy coordinating committees for events held by the many aforementioned charities.
For More Information:
Please see the Canadian Funding Corporation website or Moishe Alexander's website for more information regarding the company, or real estate financing.
###