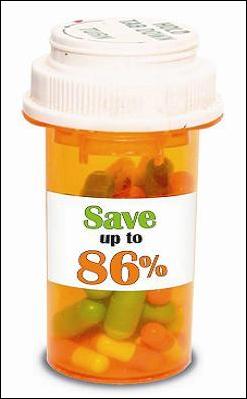 Very little of the savings from bulk importation would end up being passed on to the consumer. Whereas, mail-order would preserve low prices for consumers by cutting out the middleman
Winnipeg, Canada (PRWEB) January 18, 2007
Senators Byron Dorgan (D- N.D.) and Olympia Snowe (R- ME) along with Reps. Rahm Emanuel (D-IL) and Jo Ann Emerson (R-MO) have re-introduced companion legislation in both houses of Congress aimed at facilitating importation of FDA approved medications from Canada and other countries. The Pharmaceutical Market Access and Drug Safety Act (S. 242/H.R. 380) intends to permit Americans to purchase prescription medications by mail from registered Canadian pharmacies for personal use and eventually allow licensed U.S. pharmacies and wholesalers to import wholesale medications from several designated countries in bulk. The bill brings an essential certification of safety and regulation by requiring FDA inspections of Canadian pharmacies and supply chain integrity through pedigree verification. It has also been given full endorsement by the AARP on behalf of its 38 million members.
Licensed Canadian online pharmacies like Rx Care Canada have reliably dispensed medications to American patients for 5 years via the mail and welcome the opportunity to service a government-regulated program. Canadian pharmacies have proven that for many under or uninsured Americans, mail-order prescriptions are safe, affordable and convenient with savings that range from 30-86% off retail prices. However, many suppliers warn that the bulk importation or wholesale component of the bill is unsustainable and beyond the functional capacity of the Canadian pharmaceutical market.
"The Canadian market can easily meet the demand for mail-order prescription drugs because it services a limited uninsured demographic. But to expect Canada to fill the shelves of pharmacies and wholesalers across the U.S. is unrealistic and not likely to be acceptable to the Canadian government," says William Skubovius, President & COO of Rx Care Canada (http://www.rxcarecanada.com). "The chances of Canada facilitating the trade of massive quantities of drugs on the wholesale market are slim to none."
Most industry experts concur that the Canadian government is sure to respond precipitously with a ban on bulk exports should the legislation become enacted. There is also serious doubt about whether other countries, in Europe for example, would tolerate large-scale export of their drugs to the U.S. Furthermore, profit taking by wholesalers and retail pharmacies will certainly mitigate most of the savings to patients.
"Very little of the savings from bulk importation would end up being passed on to the consumer. Whereas, mail-order would preserve low prices for consumers by cutting out the middleman," adds Skubovius.
In fact, savings from Canada are so substantial that they compete well and in many cases surpass the discounts from the Medicare D prescription drug program for seniors. This may account for why many seniors that enrolled in Medicare D have returned to RxCareCanada.com in recent months.
"Higher premiums, more limited formulary coverage and an even bigger doughnut hole in 2007 make Canadian medications an excellent alternative or addition to Medicare D plans," says Skubovius.
"Passing drug importation legislation could be a perfect plug for the doughnut hole while helping millions of younger Americans who lack health insurance."
Rx Care Canada Pharmacy is licensed by the Manitoba Pharmaceutical Association (IPS license # 32690) and has been safely dispensing medications to American patients for 5 years. All Canadian drugs are regulated by Health Canada and dispensed by licensed pharmacists.
Media Contact:
William R Skubovius
Ph. 1-800-381-3594
Website: http://www.RxCareCanada.com
###