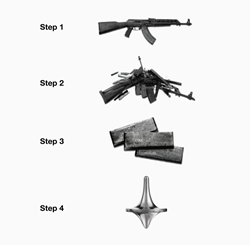 Power of truth is more powerful and enduring than the power of gun. Therefore, the Humaniam Metal Initiative is a laudable effort at making this world more peaceful through concrete human action
TORONTO (PRWEB) November 14, 2018
The Humanium Metal initiative and with the help of local governments, illegal firearms are seized and destroyed, to be refined into metal for fabricating different commercial goods. Financial support from the Humanium Metal initiative go towards rebuilding conflict-torn communities that are affected by armed violence. Thus, every individual who supports Foreverspin and the Humanium Metal project is making a tremendous contribution and is acting to become a part of the solution to one of the world's most pressing problems.
"Power of truth is more powerful and enduring than the power of gun. Therefore, the Humaniam Metal Initiative is a laudable effort at making this world more peaceful through concrete human action", Says Dalai Lama "Small arms are weapons of mass Destruction. I support the Humanism Metal Initiative as an important action towards a more civilized word." Says Hans Blix, Swedish Diplomat.
Research shows that most crimes of gun violence are committed by someone who obtained a gun illegally. Aside from the gruesome cost of human life, there is also a global cost to insecurity at an estimated $400 billion and the growth and sustainability of developing countries and communities becomes almost impossible with the presence of gun violence.
Why Spinning Tops? Simplistic in nature, spinning tops helps spark creativity. There is a sense of serenity and calming in getting back to something so minimal and tactile. The MetalMuseum collection sparked international interest among designers, collectors, and in the educational sector. In 2016 Foreverspin launched its corporate gift division and has worked with some of the world's largest brands. The addition of Humanium Metal will bring ethical values into their collection in time for the holiday season.
Get Involved and Get a Spinning Top,
To become part of the movement to help eradicate the world of illegal firearms, contribute to Foreverspin's Kickstarter campaign. https://kck.st/2OFpiAQ
About ForeverSpin
Founded in 2014, ForeverSpin is a Canadian company that makes elegant, high-quality metal spinning tops out of 19 different metal and finishes. All ForeverSpin products are manufactured and cared for in Toronto, Canada, before being shipped out to customers in over 140 different countries. ForeverSpin, with the amazing support of the global community has become one of Canada's fastest-growing companies, listed 3rd in 2017 and 10th in 2018 by Maclean's magazine and Canadian business.
To learn more about ForeverSpin, visit https://foreverspin.com/.