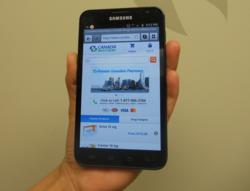 Estella Wong, Marketing Manager for CanadaDrugsOnline.com says "we are excited about our new mobile site, now our customers can access the same great features of our website, anytime, anywhere."
Vancouver, BC (PRWEB) May 14, 2012
Canada Drugs Online, a leading Canadian pharmacy provider, is proud to announce the launch of their mobile website. The mobile site offers all the same great features as the full site, but is optimized for ease of use for customers on the go. CanadaDrugsOnline.com's customers can search for their prescriptions, compare brand name and generic prices, and refill their prescriptions. For touch screen users, they can simply tap on the phone number to call into customer service.
CanadaDrugsOnline.com has optimized their site for mobile users in response to massive increase in mobile traffic. Last year, over 360 million smartphones were activated worldwide. Customers have begun to multitask, and started filling their prescriptions online…and on the go. As Estella Wong, Marketing Manager for CanadaDrugsOnline.com says, "we are excited about our new mobile site, now our customers can access the same great features of our website, anytime, anywhere."
CanadaDrugsOnline.com's percentage of orders received from a mobile device has tripled in the past year. CanadaDrugsOnline.com is happy to make the browsing and shopping experience easier for its customers. With the rise of tablets, CanadaDrugsOnline.com has also noticed a significant rise in the web traffic directed from iPads. Although iPad users can easily use the desktop site, the mobile site is spacious and laid out beautifully for a touch screen user. With the launch of CanadaDrugsOnline.com's multi-platform mobile interface, customers order Albuterol and any other prescription, over the counter and pet medications anytime, anywhere.
CanadaDrugsOnline.com is a licensed Canadian pharmacy specializing in generic alternatives to pricey brand name medications. They opened their online division in 2004, and have since filled over 700,000 generic prescriptions. CanadaDrugsOnline.com often partners with Canadian pharmacy coupon site OnlinePharmacyCoupons.com. CanadaDrugsOnline.com allows patients freedom of choice with their prescriptions, and reliable ways to save even more on their prescriptions. They may purchase Crestor or generic domperidone for significantly lower prices than they could find in the United States. CanadaDrugsOnline.com is proudly verified by PharmacyChecker.com and is a Certified Canadian International Pharmacy (CIPA).
# # #