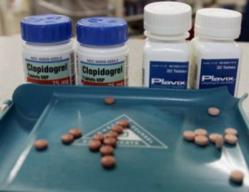 Blood clots can happen to anyone. Secretary of State Hillary Clinton was recently admitted to a New York City hospital with a blood clot. Blood thinners help to guard against the formation of clots.
Vancouver, BC (PRWEB) January 17, 2013
Doctors often recommend a blood thinner for poor blood flow to the brain or certain kinds of blood vessel diseases. Blue Sky Drugs, an online Canadian pharmacy provider, is happy to announce a coupon, code clots10, to help promote the newest blood thinners available on today's market. The risk of heart attacks and strokes, as well as blockages in your arteries and veins, are significantly reduced when using these medications.
Anticoagulants, commonly known as blood thinners, do not really thin your blood. They do, however, decrease the possibility of blood clotting. Blue Sky Drugs gives customers options for reducing the chance of blood clots forming by offering discounts on Canadian drugs. By calling toll-free 1-866-995-7387, customers can use the coupon code, clots10, to order some of the newest drugs available like Brilinta, Plavix, and Effient. Blue Sky Drugs does not sell prescription grade products without a valid prescription. It is a little easier to take charge of your own health when appropriate and quality drugs can be purchased for less.
Blood clots can happen to anyone. Secretary of State Hillary Clinton was recently admitted to a New York City hospital after doctors discovered that a blood clot had formed. Although nobody knows for sure why she developed the blood clot, it is speculated that it may have been caused by a lengthy period of inactivity due to a recent concussion. Clinton is currently on an anticoagulant. A blood clot could be dangerous if it travels, lodging in vital organs like the heart. When receiving treatment, it is important to know that other medicines may interact with the effectiveness of a blood thinner. That's why it is crucial to work closely with a health care provider in order to receive the best treatment plan available.
Blue Sky Drugs offers access to top online international and Canadian pharmacies specializing in providing high quality prescription medications at affordable prices. Their generic medications are often significantly cheaper than similar drugs sold in the United States. http://www.BlueSkyDrugs.com is only affiliated with authorized dispensaries worldwide that produce products through reputable sources.