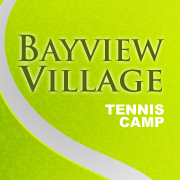 Spring tennis camps for kids have already begun and registration for kids' summer tennis camps is fast approaching. We remind parents, however, that Bayview Village Tennis Camp doesn't only accept those kids who are looking to turn pro
Toronto, Canada (PRWEB) March 25, 2015
Bayview Village Tennis Camp (http://www.BayviewVillageTennisCamp.ca), the Greater Toronto Area's leading provider of first-class tennis camps and clinics for players of all ages and skill levels, is weighing in on the number of Canadians currently on pro tour.
Genie Bouchard and Milos Raonic get most of the attention out of all Canadian tennis players, and deservedly so. Going into the Miami Open, Bouchard is currently ranked number six on the women's side, while Raonic is ranked fifth on the men's. (Source: Myles, S., "First Serve: Canadians on the pro tennis tours this week," Yahoo! Canada Sports, March 23, 2015 https://ca.sports.yahoo.com/blogs/eh-game/first-serve--canadians-on-the-pro-tennis-tours-this-week-040450956.html.)
"You can't take anything at all away from Bouchard or Raonic. They've truly revitalized the present interest in Canadian Tennis and everyone can feel the excitement," says Peter Nielsen, director of Bayview Village Tennis Camp. "But other Canadian players are having an impact around the tennis circuit as well and they also need to be recognized."
Nielsen explains that two of those players are 24-year-old Vasek Pospisil from Vancouver and 18-year-old Francois Abanda from Montreal on the men's and women's side, respectively. Both will have the opportunity to play high-profile opponents at the Miami Open, which features the highest level of tennis underneath the Grand Slam.
"Just as Bouchard and Raonic had their moments of establishing themselves and are still going through those moments, these other young players will have an opportunity to prove their own skill and worth," he adds. "That's what these tournaments are for, and especially when you start getting into these elite-level matches with elite-level players, these moments really have the chance to become memorable. The aim of Bayview Village Tennis Camp is to prepare young tennis players for these moments."
According to Nielsen, preparation is the key; players don't get to the level of a Genie Bouchard or Milos Raonic, or even of a Vasek Pospisil or Francois Abanda, without preparing. To get to that level of competition takes practice, commitment, and skill.
"Spring tennis camps for kids have already begun and registration for kids' summer tennis camps is fast approaching. We remind parents, however, that Bayview Village Tennis Camp doesn't only accept those kids who are looking to turn pro," Nielsen concludes. "Our tennis camps are for players of all levels and we give them the same attention we would any of our more experienced players. We essentially want to create the best experience for any child that steps onto that tennis court and our team members are all committed to that goal."
For more information on Bayview Village Tennis Camps, visit http://www.BayviewVillageTennisCamp.ca/.