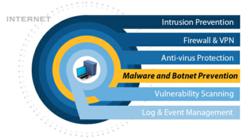 By eliminating malware, our web hosting customers can protect their companies reputations and ensure the best user experience
Vancouver, BC (PRWEB) June 03, 2013
Canadian Web Hosting, the leading provider of web hosting and cloud-based Infrastructure as a Service (IaaS) solutions in Canada, today announced its partnership with Sucuri, the leader in malware prevention, to deliver a cost-effective solution that is focused on malware detection and removal.
Working in combination with Canadian Web Hosting's Secure IT platform, customers will benefit from using Canadian Web Hosting's advanced Defense Network layer approach that both protects and monitor botnets, malware and a customer's website's IP reputation to protect their users and networks from possible malware attacks. This includes malware prevention scanning that blocks inbound and outbound traffic by tracking malicious activities to their firewall gateways to enforce pre-determined security policies, as well as server side and website scanning that when combined are 85% more effective in preventing malware and malicious attacks when compared to traditional malware services.
Sucuri, works by actively scanning all pages of customers' websites for viruses and possible web malware threats to see if malicious users have injected harmful code into them. Additionally, Sucuri continually monitors potential new versions of malware and protects online businesses from any emerging threats. Canadian Web Hosting security experts work with their customers and actively manage any malware notifications or possible attacks. In the event that an issue is identified, Canadian Web Hosting's security teams take all necessary actions to rectify the situation including validation of clean backups and files, malware removal, and continuous communication with the customer.
"We are really excited to partner with Sucuri and add their capabilities as another effective and easy to use tool to help Canadian Web Hosting customers eliminate the nuisance of malware and viruses," said Matt McKinney, Director at Canadian Web Hosting. "With the recent vulnerabilities in popular applications like WordPress, our web hosting customers need cost effective tools that help them protect their companies' reputation and ensure that malware does not impact their customers." You can get more information at 1.888.821.7888 or by email at sales(at)canadianwebhosting(dot)com.
About Canadian Web Hosting
Since 1998, Canadian Web Hosting has been providing a 100% all Canadian service that delivers on-demand hosting solutions including OpenStack Cloud Hosting, Shared Hosting, Virtual Private Servers (VPS), Cloud Hosting, Dedicated Servers, and Infrastructure as a Service for companies of all sizes looking to benefit from Canada's regulatory environment. Canadian Web Hosting guarantees a 100% network uptime, SSAE 16 certification and a total money back guarantee that backs everything they do. Customers can get 24/7 support by calling 1-888-821-7888 as well as email and chat. For more information, visit them at http://www.canadianwebhosting.com, or get the latest news by following them on Facebook and Twitter at @cawebhosting.