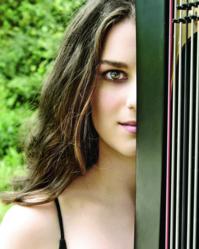 Each evening invites you on a different type of journey – psychological, geographical, or spiritual
Canandaigua, NY (PRWEB) March 30, 2012
Bon voyage! Canandaigua LakeMusic Festival proudly announces its 2012 season, which explores the theme of Journeys and Voyages from August 15-26. Over the course of four Festival Series programs, held for the first time in a newly built, state-of-the-art concert hall at Finger Lakes Community College, a star-studded roster of world-class artists are your guides in a tour with inspirations from France to Syria, and from Cuba to Madagascar. "Each evening invites you on a different type of journey – psychological, geographical, or spiritual," said festival co-artistic director Edward Klorman. "We think you'll be excited to hear so many kinds of musical inspirations on each program." Highlights of the season include the local debuts of acclaimed harp virtuoso Bridget Kibbey and the innovative SongFusion ensemble.
A separate series of two Classical Blue Jeans evenings, curated and hosted this year by the pioneering, multi-genre cellist and singer/songwriter Mike Block, combine exciting, eclectic musical shows with a barbecue dinner, offering a uniquely inviting experience for the whole family. Block, hailed by Yo-Yo Ma as "the ideal musician of the 21st century," will appear in one-time-only collaborations with RPO concertmaster Juliana Athayde and with Tommy Labanaris, Broadway actor and a regular favorite at Bristol Valley Theater. New this season, Block will participate in a community song-writing contest, from which winning entries will be performed at Classical Blue Jeans. "Even if you're not a musician, this is your chance to hear your poems or tune come to life with a little help from Mike Block's," said festival co-artistic director Amy Sue Barston.
Visit the website at http://www.LakeMusicFestival.org for information about musical artists,concert programs, and details about entering the contest. Also special rates for season subscriptions available now!
About the Canandaigua LakeMusic Festival:
Founded in 2005, the Canandaigua LakeMusic Festival has quickly become an essential part of cultural life in the Greater Rochester area and has established a regional reputation for its concerts' innovative programming, inviting atmosphere and musical excellence. Led by artistic directors Amy Sue Barston and Edward Klorman (a Rochester native), the festival has showcased such world-class artists and ensembles as pianist Jon Nakamatsu, composer/pianist Lowell Liebermann, clarinetist Charles Neidich, and the Borromeo, Orion, and Ying Quartets. Since its inception, the Festival has been dedicated to engaging new audiences for classical music and to educational projects that introduce music to a new generation of audiences. Its pioneering Classical Blue Jeans concerts have been lauded by New Yorker critic Alex Ross. The Festival's comprehensive educational and outreach programs have included partnerships with numerous community organizations, including Canandaigua's Wood Library, Hochstein School of Music and Dance, Strong National Museum of Play®, Thompson Health, Wegmans and public schools in both Rochester and Canandaigua.