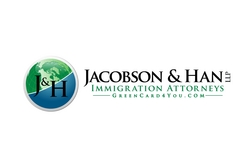 exceptional and extremely unusual hardship
Los Angeles, CA (PRWEB) October 20, 2010
Last week, the Department of Homeland Security announced that it made history in the fiscal year 2010 when it deported 393,000 people. The administration broke its own fiscal year 2009 record. Although the Obama administration has repeatedly said it would focus its deportation efforts on immigrants with criminal convictions, over 197,000 of those deportations were not based on criminal convictions.
Unfortunately, Respondents (the individuals facing deportation) in Immigration Court are rarely aware of the forms of immigration relief available to them , are often not represented by an attorney, and do not know how to prevent deportation (removal) from the United States. One form of relief available to some long term undocumented residents of the United States is Cancellation of Removal for non-lawful permanent residents (The application form for non-LPR-based Cancellation of Removal is the EOIR-42B.).
Pursuant to the Immigration and Nationality Act [INA §240A(b)], cancellation is available to a non-permanent resident of the United States in any immigration status who:
1) Has continuously resided in the United States for at least ten years; and
2) Has been a person of good moral character throughout this time; and
3) Is not otherwise subject to criminal bars arising from certain convictions, and
4) Establishes that removal would result in "exceptional and extremely unusual hardship" to the alien's spouse, parent, or child who is a United States citizen or legal permanent resident.
Unfortunately, the Immigration Judge cannot consider hardship to the foreign national. Instead, the Immigration Judge can only take into consideration the hardship to the spouse, children or parents who are United States citizens or green card holders. Essentially, assuming the Respondents meet the other requirements, they have to show that their removal from the United States would result in "exceptional and extremely unusual hardship" hardship to their spouse and/or children and/or parents.
The Attorneys at Jacobson & Han LLP, Immigration Attorneys conduct a very thorough factual investigation into the personal lives of their clients, to determine exactly how a foreign national's removal will impact a family. Undocumented parents of autistic children often fear disclosure of their child's condition will be a negative factor in their deportation case. In fact, autism or any other medical condition or disability, is an important factor to prove "exceptional and extremely unusual hardship" and should not be hidden.
Although every Respondent and family believe that their hardship meets the high standard, unfortunately, that is not the case. In cases where the Respondent's child may have autism or any other medical condition or disability, it is important to prove 1.) the medical, educational and social needs of the child, 2.) how those needs are met in the United Sates, and 3.) how those needs may not and cannot be met in the foreign country.
In addition, hardship must involve the examination of many other factors, including:
• Family separation
• Foreign culture
• Financial and emotional support
• Family support in the United States versus in the foreign country
• Educational opportunities
In order to prove hardship, every aspect of the Respondent's family should be considered. The Immigration Attorneys at Jacobson & Han LLP have found it is useful, if not essential, to have a psychiatric or psychological evaluation to determine, in medically objective terms, the effect of a family member's removal.
The Immigration Judge will consider all hardship including how unusual the hardship would be. Thus, the Respondent must prove that not only is his or her family suffering hardship but also that this hardship is unusual hardship, not typical. In order to meet this high standard, the Respondent must provide documentary evidence, witnesses, and at times expert witnesses.
Cancellation of Removal cases are tough cases. The burden is high, and the proof must be very detailed. Respondents should not take these cases lightly. Although the Department of Homeland Security is very proud of its deportation statistics, do not be included in next year's numbers.
Jacobson & Han LLP
Immigration Attorneys
510 West 6th Street, Suite 326
Los Angeles , California 90014
(213) 620-0222
(213) 620-0444 FAX
http://www.GreenCard4You.com Info(at)GreenCard4You(dot)com
###