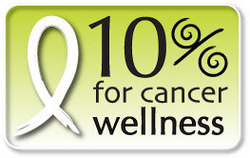 only the beginning of our continual quest to make a positive impact on wellness in the lives of as many people as we can reach.
Boulder, CO (Vocus) September 15, 2010
As a certified woman-owned and operated business, The Tea Spot is proud to announce its sponsorship of female artist Dvora Kanegis at Boulder Community Hospital (BCH) Auxiliary's 2nd Annual Boulder Busts Cancer Fundraiser. The uplifting nature of Kanegis' artwork speaks to The Tea Spot's vision of helping people live longer and healthier lives. The work will be unveiled and made available for sale at the "Girls Night Out" Boulder Busts Cancer fundraiser on Thursday, September 30, 2010. Proceeds from the Fundraiser will benefit BCH Auxiliary's Breast Cancer Treatment Fund. The "Girls Night Out" fundraiser cocktail party is meant to bring breast cancer awareness to the community. Tickets for the event are set at an affordable $30 and any interested mothers, sisters, aunts, daughters, and grandmothers who have been affected by Breast Cancer are encouraged to join. More information on the event is available at http://www.bchauxiliary.org/
Kicking Their 10% for Cancer Wellness Program into Gear:
Since the launch of their '10% for Cancer Wellness' pledge in October, 2009, The Tea Spot has made tremendous strides in their cancer donations program by tightening their bond to local wellness organizations and initiatives. In the last month alone, The Tea Spot has made in-kind contributions to community fundraising events and organizations such as the 6th Annual Tennis Marathon for Breast Cancer in Boulder, HealthLinks Foundation's Cabaret for a Cause, Growing Gardens' Cultiva Harvest Fundraiser, and the American Cancer Society "Relay for Life" event in Northglenn, Colorado. The Tea Spot's CEO, Maria Uspenski, views this first year of donations as "only the beginning of our continual quest to make a positive impact on wellness in the lives of as many people as we can reach."
ABOUT DVORA KANEGIS
Kanegis' paintings are an improvisational dance of color created with unconventional combinations of materials. The artist paints faces, dancers, sensuous nudes, dreamscapes, candle lighting for blessing the light of Shabbat; all are woven with a thread of mystery that engages the onlooker. Receiving scholarships to Skidmore College and Yale University, Kanegis received degrees with honors and continued to study art with Knox Martin in New York City and others at Columbia University. Her compelling paintings have been exhibited in numerous one person and group shows in galleries and museums through out the United States. Her work hangs in permanent collections at The University of Colorado, Boulder Community Hospital, Healthworks Inc, The Tebo Cancer Center, and many more public and private collections. In 1999 The International Cable Television Channel featured Kanegis' work in an international campaign on breast cancer awareness.
ABOUT BCH AUXILIARY BREAST CANCER TREATMENT FUND
The Fund helps underinsured or uninsured patients who cannot afford to have necessary diagnostic procedures and services after a suspicious or positive mammogram.
ABOUT THE TEA SPOT, INC
The Tea Spot is a certified woman-owned and operated business producing proprietary products for loose leaf tea. Patented tea infuser products are marketed under the Steepware® trademark. They also offer a line of exclusive, organic, and Fair-Trade Certified™ loose tea. Based in Boulder, Colorado, the company was founded in 2004 by Maria Uspenski, a cancer survivor drawn to the health benefits of leaf tea during her recovery. She set forth to modernize the loose-leaf tea experience, making it an everyday luxury. Her message is simple and powerful: tea in its freshest form renders incredible flavor, unmatched health benefits, and is eco-friendly. The company ensures that its products uphold clean, sustainable and fair manufacturing standards. The Tea Spot's model of social entrepreneurship incorporates a culture of giving as it grows: Ten percent of every sale made is donated in-kind to cancer and community wellness programs. More at http://theteaspot.com or media(at)theteaspot(dot)com.
###