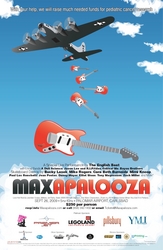 living life to the Max.
San Diego, CA (PRWEB) August 5, 2009
What if in the span of a few hours you could be front row, dancing to the music of The English Beat; learning how to skateboard from actual pros fresh from competing at the X Games; sitting inside a real World War II fighter airplane; and also cruising in a classic hotrod? Oh, and meeting, Darth Vader, Clone Troopers and Chewbacca from Star Wars, too.
Well, get your calendar out now. That's because the first annual Maxapalooza is going to rock your night away on Saturday, Sept. 26 from 5 p.m. to 10 p.m. The event will be hosted within Premier Jet's private aviation compound at McClellan-Palomar Airport, 2100 Palomar Airport Road, Carlsbad.
The proceeds from Maxapalooza will go to finding more effective, less toxic therapies for kids with advanced Neuroblastoma, an overlooked pediatric cancer that forms in the nerve tissue in infancy or, in some cases, even before birth. It is the most common solid tumor cancer affecting children today and has the lowest survival rates, and currently, no cure. Almost 50 percent of cases occur in children younger than two years old.
Maxapalooza is inspired by Max Mikulak, a courageous inspiration who was diagnosed with Neuroblastoma at the age of three. Max passed away in late August 2008 at the age of seven after battling hard against the disease for four years. He was known to those who knew and loved him as always "living life to the Max."
"As any parent of a child who has died at an early age will tell you, there is a desire to create a legacy from the tragedy that took their child from them. With Maxapalooza, the legacy we are creating is part celebrating childhood, and part funding the research that will help to make sure that in the future, parents do not have to lose a child like we have to a common yet overlooked disease," said Max's father, Andy, who along with his wife, Melissa, founded Max's Ring of Fire, a non-profit organization, to raise money to treat Neuroblastoma.
Funds raised as a result of the event will directly support the research of Giselle Sholler, M.D., at the Vermont Cancer Center, who is a pediatric oncology specialist dedicated to finding treatment alternatives for Neuroblastoma and Medulloblastoma which claim the lives of one child every 16 hours.
Scheduled "look, touch, and ride" activities will include:

Live musical performances to include a headline appearance by The English Beat; local San Diego bands to include A Dull Science, Jason Lee & The R.I.P. Tides, Modern Rifles, Critical Me, and Bayou Brothers
Special skateboarding demonstrations by Grind for Life founder Mike Rodgers and other world-class professionals such as Bucky Lasek, Cara Beth Burnside, Mimi Knoop, Paul Luc Ronchetti, and Jean Postec
Be at the helm of one of the vintage World War II aircraft on display to include P-51 Mustangs, a Stearman Biplane, and B-25 Mitchell Bomber
Hop in and take a spin around the perimeter of the event in one or more of the cool low-riders and classic hotrods on display courtesy of Los Peligrosos Car Club
Get close to Darth Vader, Storm Troopers and Chewbacca as The San Diego Star Wars Society will be on hand to capture guests in up close and personal unique photo opportunities
Silent and live auctions items to include:
A "one-of-a-kind" Lego Masterpiece courtesy of LEGOLAND® California Resort
A special evening of relaxation for 10 at Casa Blanca Salon & Spa in Fairbanks Ranch
One full year of free, no-time-limit, parking anywhere in Del Mar
Wii suite of games from EA
"We at LEGOLAND California are honored and thrilled to be supporting this very special event," said Peter Ronchetti General Manager of LEGOLAND California Resort. "Not only will we be celebrating Max's life and everything that made him so special, including his love of LEGO, but we'll also be partnering with our friends within the wider business community of Carlsbad and helping to raise awareness and funding for this hugely important area of pediatric cancer research."
For a complete list of the auction items available at the event, please visit Maxapalooza.com.
Maxapalooza tickets are $250 and include VIP admission to all activities, special cocktails and hors d'oeuvres along with special brews provided by Stone Brewery. To purchase tickets and/or make a donation to support the fight against Neuroblastoma, visit Maxapalooza.com. Maxapalooza is a 21 and up adult only event.
Maxapalooza Sponsors
Title sponsors include: LEGOLAND California Resort, Premier Jet, Grind for Life, Pillsbury Winthrop Shaw Pittman LLP, and YMI Creative.
Gold sponsor: Animator Stephen Silver and Silvertoons.
Silver & Bronze Sponsors include: Casa Blanca Spa, Pfizer, San Diego Stars War Society, Los Peligrosos Car Club, Stone Brewery, Belly Up Tavern, SRD, Sport About, and National Public Safety.
"Known for our reputation as a bustling North County aviation business center, we were approached by the Mikulak's while they searched for a facility to host Maxapalooza," said Craig Foster, General Manager of PremierJet. "We learned that Max had a love of World War II airplanes, in particular, the P-51 Mustang. Well, I just smiled as we just happened to have one parked in a hangar on-site that day. Supporting Maxapalooza just seemed to be a match made in heaven. We look forward to contributing to our community and such a unique and interactive event in support of Max, his love of airplanes, as well as pediatric cancer research."
About Max's Ring of Fire
Max's Ring of Fire (MROF) is a 501c3 public charity dedicated to raising money to find treatment options for children with advanced Neuroblastoma, a cancer that forms in the nerve tissue in infancy or, in some cases, even before birth. It is the most common solid tumor cancer affecting children today and has the lowest survival rates, and currently, no cure. Almost 50 percent of cases occur in children younger than two years old.
The charity was founded in 2008 by Andy and Melissa Mikulak of San Diego, California in honor of their late son Max, a courageous inspiration who was diagnosed with the disease at the age of three. Max battled hard against the disease for four years until the age of seven, which is quietly known to those who knew and loved him as 'forever seven."
MROF is a founding member of the NB Alliance, a dedicated group of cancer foundations led by families that fund Neuroblastoma treatments. Efforts generated by the group fund the work of Giselle Sholler, M.D., at the University of Vermont, Vermont Cancer Center.
Dr. Sholler's program focuses on providing more precise and predictive approaches to treating Neuroblastoma and Medulloblastoma. The ultimate objective is to increase survival outcomes for children affected by these diseases for which there currently exists no cure. Additional founding members of the alliance include:
For more information about Neuroblastoma and how to help save a child's life, please visit Max's Ring of Fire.
About LEGOLAND® California Resort
LEGOLAND® California Resort is the premiere California destination for families with young children and is home to both LEGOLAND® California, a 128-acre family theme park and SEA LIFE™ Carlsbad, CA, a two-story 36,000 square-foot interactive Aquarium. LEGOLAND California features more than 60 rides, shows and attractions geared towards children ages 2 to 12. SEA LIFE provides an educational and interactive dynamic unlike any other with play zones, fun facts and quiz trails - adults and kids alike will marvel at the majesty and creativity of this unique Aquarium experience. Both attractions are owned by Merlin Entertainments Group, the second largest attractions operator in the world. For the most current information, log on to http://www.LEGOLAND.com or call (760) 918-LEGO.
About PremierJet
Premier Jet is a unique aviation business center located at McClellan-Palomar Airport in Carlsbad. Premier Jet offers hangars and Class A office space to businesses utilizing aviation and serving the aviation and aerospace industries. Additionally, Premier Jet features an executive terminal for private and charter flights and complete ground support for both based and visiting aircraft. For more information, visit http://www.premierjet.com.
About Grind for Life: "Helping People with Cancer"
Grind for Life (GFL) provides financial assistance to cancer patients and their families when traveling long distances to doctors and hospitals. In addition, GFL educates and inspires these patients and families concerning cancer survival and recovery. For more information, visit http://www.Grindforlife.org.
About Pillsbury
Pillsbury is a full-service law firm with market-leading strengths in the energy, financial services, real estate and technology sectors. With offices in the world's major financial and technology centers, we counsel clients on all aspects of global transactions and litigation. Our multidisciplinary teams allow us to anticipate trends and offer a 360- degree perspective on complex business and legal issues--helping clients take greater advantage of opportunities and better mitigate risk. For more information, visit http://www.pillsburylaw.com.
About YMI Creative
YMI Creative LLC is an imaginative producer of live events and video production for corporations or organizations seeking to motivate and educate their audience. The company distinguishes itself through a unique fusion of information, inspiration and emotion to deliver powerful programs that surpass client's expectations. For more information, visit http://www.ymicreative.com.
###