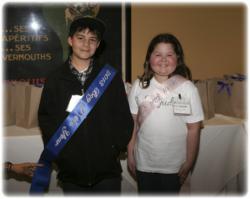 They are all passionate and determined individuals, and leaders in their communities. Their efforts really go far in bringing help and hope to patients and their families
San Jose, CA (PRWEB) June 13, 2013
Manny Camara and Karen Routt have been named as this year's Silicon Valley Man & Woman of the Year for The Leukemia & Lymphoma Society's (LLS)—Greater Bay Area Chapter.
During a spirited ten-week cancer fundraising period beginning with a kickoff celebration, the candidates earn their title solely on their success in raising money to help LLS fund research to find cures and better therapies for blood cancers. Candidates in each LLS chapter vie for the local title, and the highest fundraisers nationally earn the title of national Man & Woman of the Year. The national titles will be awarded to the top fundraisers in the country, to be announced this summer.
Manny Camara is a therapy supervisor with MyoTechnology in Campbell, California. Manny became involved with LLS following his daughter's leukemia diagnosis at the tender age of two-and-a-half. After enduring aggressive treatment for three years, today she is a healthy 19-year-old. Because of his daughter, Manny feels that LLS' mission is his own personal cause and has worked closely with LLS' Team In Training (TNT) program participants for over ten years, bringing his sports therapy expertise to TNT athletes as they train for upcoming events. He was inspired to become even more involved with LLS this year after both his sister and brother-in-law successfully battled cancer. By utilizing his fundraising abilities, he raised $31,530 for the Silicon Valley Man & Woman of the Year campaign and earned the well-deserved title of Man of the Year.
Karen Routt has been an active volunteer throughout her life. She first became aware of The Leukemia & Lymphoma Society when her godson ran the Big Sur Half Marathon with LLS' Team In Training program in 2011. Karen was nominated by her friend, Kimberlli Walker, whose mother is currently battling multiple myeloma. Karen campaigned in honor of Kimberlli's mother, raising $47,100 and earning the title of Woman of the Year.
With the support of their campaign teams and community, all twelve candidates in Silicon Valley collectively raised over $250,000 to support blood cancer research and honored patients, including LLS' Girl & Boy of the Year.
Girl of the Year, Stephanie Walker, was first diagnosed with acute myeloid leukemia (AML) in the spring of 2004. The mortality rate of this type of cancer is 90% and Stephanie immediately underwent radiation, chemotherapy and a bone marrow transplant from her brother, John. Although initially successful, Stephanie eventually relapsed. With no additional treatment options that her local doctors could try, Stephanie's family reached out to St. Jude's Hospital on the advice of another cancer patient's parent. Stephanie was accepted into St. Jude's study of children with AML, in which she received a stem cell transplant from her mother and stayed at St. Jude's for eight months of observation and treatment. Now, Stephanie continues to do well. She is seven years out of transplant, which puts her past the important five year milestone.
Boy of the Year, Noah Salsedo, was diagnosed with acute lymphoblastic leukemia (ALL) in 2009. Noah and his family have stayed strong throughout his journey, despite the hard days. His mother calls Noah's battle her battle, too. "Noah is the superhero and I am the sidekick," she says. Noah looks forward to the day when his battle with leukemia is over and he'll be able to look at this experience as merely an obstacle in his path. His positive attitude allows him to focus on a goal of remission.
"Congratulations to our winners, and to all of our candidates who participated in this year's campaign," said Catherine Brown, Executive Director for LLS' Greater Bay Area Chapter. "They are all passionate and determined individuals, and leaders in their communities. Their efforts really go far in bringing help and hope to patients and their families."
For more information about the Man and Woman of the Year campaign, visit http://www.mwoy.org/
About The Leukemia & Lymphoma Society
The Leukemia & Lymphoma Society ® (LLS) is the world's largest voluntary health agency dedicated to blood cancer. The LLS mission is to: Cure leukemia, lymphoma, Hodgkin's disease and myeloma, and improve the quality of life of patients and their families. LLS funds lifesaving blood cancer research around the world and provides free information and support services.
Founded in 1949 and headquartered in White Plains, NY, LLS has chapters throughout the United States and Canada. To learn more, visit http://www.LLS.org or contact the Information Resource Center at (800) 955-4572, Monday through Friday, 9 a.m. to 6 p.m. ET.