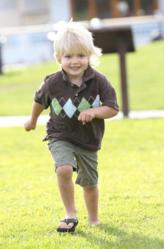 We are so proud to have had these amazingly talented leaders champion our cause.
San Francisco, CA (PRWEB) June 11, 2013
The Greater Bay Area Chapter of The Leukemia & Lymphoma Society (LLS) will announce the results of its 23rd annual "Man & Woman of the Year" campaign – in which candidates introduced innovative cancer fundraising techniques that garnered headlines around the world – at the Grand Finale at Fairmont San Francisco on June 15.
The team of 11 candidates, who were nominated based on their leadership, team building excellence and passion for community service, raised money to save and improve the lives of individuals with blood cancers including leukemia, lymphoma, Hodgkin's disease and myeloma.
"We are so proud to have had these amazingly talented leaders champion our cause," said Catherine Brown," LLS Executive Director. "We applaud all of their efforts to help pave the way for new and improved therapies that will benefit generations to come."
Conceived as a grassroots fundraising effort in San Francisco in 1990, the "Man & Woman of The Year" campaign now takes place at 60 LLS chapters nationwide and raised over $19 million in 2012. For more about the campaign, please visit http://www.mwoy.org/sf.
INNOVATION STRAIGHT FROM SILICON VALLEY
Creative events such as an online auction of meetings with the world's top venture capitalists and tech founders; a city-wide scavenger hunt taking over downtown Danville; a Great Gatsby-themed yacht party on the San Francisco Bay; a fashion show at the San Francisco Lamborghini showroom; and a private dinner hosted in the Mission neighborhood restaurant Beast and the Hare expanded traditional concepts of fundraising.
2013 CANDIDATES FOR MAN & WOMAN OF THE YEAR
Below is the list of candidates, several of whom have been touched by blood cancer. They have worked with great innovation and dedication to raise funds for The Leukemia & Lymphoma Society. Past candidates have included Lieutenant Governor Gavin Newsom and celebrity chef Michael Mina.
Sarah Austin
David Bevilacqua
Dominic Chan
Steve Chen
Eric Dew
Chris Orr
Christina Resasco
Marc Rosenberg
Tatiana Takaeva
Paul Tuan
Jennifer Zanotto
CAMPAIGN HONORS TWO YOUNG SURVIVORS
The 2013 Man & Woman of the Year campaign honored two courageous survivors of acute lymphoid leukemia – Sarah, age 11, of Pleasanton and Rhett, age 5, of Corte Madera. After more than two and a half years of chemotherapy, Sarah is a vibrant and happy 5th grader who enjoys swimming, crafting, baking, and playing with her friends. Rhett is still sick and battling cancer, but his prognosis is good and he is back in preschool, eager to learn and play. He has learned to accept every inconvenience with the understanding that his treatment will ultimately "get the bad guys out!"—a phrase he declares with every chemo dose.
Rhett even had the chance to meet with SV Angel co-founder and managing partner David Lee. Lee is participating in the 4th annual "Venture Capital Master's Lunch Series," a program put together by MobilizeForTheCure, Man & Woman of the Year Candidate Christina Resasco's fundraising team. VC's like David Lee, Megan Quinn, Tim Draper and Shervin Pishevar are donating their time for a private lunch or dinner to benefit the Man & Woman of the Year Campaign. Resasco has raised over $200,000 in donations for The Leukemia & Lymphoma Society since 2009.
BLOOD CANCER BREAKTHROUGHS TREAT MANY FORMS OF CANCER
Since 1949, the privately-funded Leukemia & Lymphoma Society has invested more than $875 million in blood cancer research, which has resulted in medical breakthroughs in chemotherapy, radiation and stem cell transplantation. These treatment protocols have proven effective in fighting blood cancer, as well as many other forms of the disease.
The Greater Bay Area Chapter of LLS is currently funding multi-year grants at Stanford University; University of California, Berkeley; and University of California, San Francisco with over $16 million dollars invested. Underscoring the importance of the Man & Woman of the Year campaign, LLS reports that a donation of $1,000 supports one week of basic blood cancer research at one of the universities.
In 1960, a child with leukemia had a four percent chance of survival. Advancements in treatment have led to an eighty-five percent survival rate today. However, despite the increased survival rates, the number of leukemia patients has almost doubled and the number of lymphoma patients has tripled since 1975.
ABOUT THE LEUKEMIA & LYMPHOMA SOCIETY
The Leukemia & Lymphoma Society is the world's largest voluntary health agency dedicated to blood cancer. Its mission is to cure leukemia, lymphoma, Hodgkin's disease and myeloma, and improve the quality of life of patients and their families. LLS funds lifesaving blood cancer research around the world and provides free information and support services. Founded in 1949 in White Plains, NY, LLS has chapters throughout the United States and Canada. To learn more, visit http://www.lls.org or contact the Information Resource Center at (800) 955-4572.