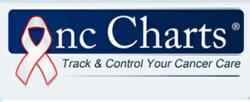 OncCharts.com is the one tool that empowers patients to verify they are being treated according to the national standard set by the NCCN.
Greensboro, Georgia (PRWEB) November 27, 2012
Innovative and new online cancer care platform, OncCharts.com, announces that it is giving away 100 free patient lifetime subscriptions to the next 100 subscribers in time for the holiday season.
Although cancer-related deaths are on the decline in the United States, more than one million new cancer cases are expected to emerge this year alone. In an effort to help cancer patients and their loved ones understand how the leading cancer institutions in the United States have agreed to treat certain cancers, OncCharts.com was developed.
OncCharts.com is the only online platform that allows cancer patients to summarize their cancer care as it happens in a simple timeline format and compare it side by side to the National Comprehensive Cancer Network® ("NCCN®") guidelines for cancer management. Patients can verify that their treatment course aligns with the guidelines, and instantly update their friends and family on their progress. Patients can even search for similar patients that match their diagnosis and stage, and anonymously connect with them to ask questions. The service is now free for the next 100 users.
The National Comprehensive Cancer Network® (NCCN®), a not-for-profit alliance of 21 of the world's leading cancer centers, is dedicated to improving the quality and effectiveness of care provided to patients with cancer. Through leadership and expertise of clinical professionals at NCCN Member Institutions, NCCN® develops resources that present valuable information to the numerous stakeholders in the health care delivery system.
"OncCharts.com, the only tool that allows a patient to track their cancer care as it happens along with the expert NCCN guidelines is now free and available to everyone. Now there is nothing to lose, and everything to gain. We at OncCharts.com believe cancer patients should trust their doctors, but should not do it blindly," said Dr. Charles Matthews, founder of OncCharts.com.
"Patients should understand their cancer and follow what their doctors are doing compared to the expert NCCN patient guidelines. Being treated in agreement with the NCCN guidelines has been linked to improved survival and improved quality of cancer care but not all doctors follow the guidelines. OncCharts.com is the one tool that empowers patients to verify they are being treated according to the national standard set by the NCCN. If cancer patients are asking what they can do to improve their chances, opening an OncChart is a good place to start."
About OncCharts
Created by oncologists, OncCharts is a simple online tool that protects patients by enabling them to follow their cancer care as it happens with the NCCN guidelines for patients. OncCharts services prostate, lung, breast, and colon cancer patients. OncCharts has been profiled in the Atlanta Daily, Black Health magazine, San Francisco Chronicle, Houston Chronicle, Yahoo News, among other media outlets. The service can be sent as a gift to loved ones with cancer, which can be found here. For more information or view the video on how the OncCharts.com platform works, please visit OncCharts.com. Visit Onccharts.com on Facebook or join the conversation on Twitter.
Reference
HPB (Oxford). 2012 Aug;14(8):539-47. doi: 10.1111/j.1477-2574.2012.00496.x. Epub 2012 Jun 12. http://www.ncbi.nlm.nih.gov/pubmed/22762402