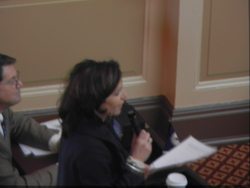 "I applaud Senator Vogel for her efforts to raise awareness in the Commonwealth on the fight against cancer, and also salute our mutual constituent Bill Couzens." Frank R Wolf (R-VA)
Washington, DC (PRWEB) March 19, 2011
The Honorable Frank R Wolf (R-VA) called the attention of his colleagues to the recent action in Virginia's General Assembly to designate February 4, 2011 and each succeeding year as Cancer Prevention Day in Virginia. It was recorded in the Congressional Record that Bill Couzens and the Less Cancer Campaign worked with Senator Vogel in an effort to secure passage of the resolution.
Resolution SJ 358 passed February 3, 2011 in the Virginia State Senate honoring the work of Less Cancer and naming February 4, 2011, and every succeeding February 4, as Cancer Prevention Day in the state of Virginia.
Senator Jill Holtzman Vogel introduced the resolution and was instrumental in its passage. She said, "It is my honor to undertake the work to establish Cancer Prevention Day in the Commonwealth. The more energy and resources that we direct toward awareness, education and prevention, the more lives we save."
In 2007, Jill was elected to the State Senate of Virginia, representing Winchester, Frederick County, Clarke County, Fauquier County and parts of Loudoun County. She serves on numerous committees and working groups, including the Senate Rehabilitation and Social Services Committee, the Committee on General Laws and Technology, and the Privileges and Elections Committee. She has co-chaired the Joint Subcommittee to Study Development and Land Use Tools and is a member of the Rappahannock River Basin Commission.
In 2010, Jill was appointed to the Prison Re-Entry Commission and the Governor's Transportation Workgroup.
Born and raised in the Shenandoah Valley, Jill is a wife, mother, and small business owner. She volunteers her time helping civic and charitable organizations, and she resides in Fauquier County with her husband and children.
Bill Couzens, who originally hails from Detroit, Michigan is a graduate of Wayne State University and the Founder and President of the nonprofit Next Generation Choices Foundation and the widely known Less Cancer Campaign. The Campaign has worked to raise awareness for the reduction of cancer risks. Founded in 2004, Next Generation Choices Foundation partners with communities to create and dispense educational tools that focus on environmental health advocacy and lifestyle choices.
The public charity was formed in response to the escalating cases of cancer and the lack of education and knowledge about potential causes. Couzens has been recognized by Congress in addition to the Commonwealth of Virginia for his work in initiating and creating best practices to reduce pesticide drift in health effected communities such as schools. He has been published in a number of periodicals and has been a speaker on the topic of reducing harmful environmental exposures linked to cancer.
###