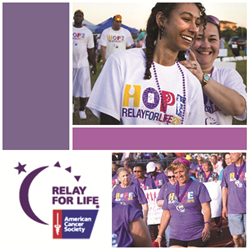 Over 15 million American families are battling against cancer, and everyone in our country has been affected by cancer in one way or another, and the Relay For Life gives us a chance to help push for a cure
Fort Worth, TX (PRWEB) September 13, 2016
Ray Insurance Agencies, a Texas-based insurance and financial planning firm that provides coverage to families and businesses in the greater Dallas/Fort Worth region, is initiating a charity event that promises to increase support for the nationally recognized Relay For Life event hosted by the American Cancer Society.
The American Cancer Society Relay For Life is a community-driven event that brings together the families of cancer survivors to celebrate their ongoing battle for recovery. Ray Insurance Agencies plans to concentrate on magnifying support for the event, in addition to raising funds that will be earmarked for use in the research of treatments and cures for breast cancer.
"Over 15 million American families are battling against cancer, and everyone in our country has been affected by cancer in one way or another, and the Relay For Life gives us a chance to help push for a cure," says Ray Gustafson, owner and operator of Ray Insurance Agencies.
Utilizing an interactive social media presence and an email update bulletin directed toward local community leaders, Gustafson and his team are working to improve the turnout of the Relay For Life event. In addition, the Ray Insurance Agencies team is in the process of working up a full page article on the charity drive for publication in the firm's online magazine "Our Hometown": http://www.rayinsuranceagencies.com/Our-Hometown-Magazine_39.
Since last year, Ray Insurance Agencies has championed nearly a dozen charitable organizations and nonprofits operating in the Dallas area. As part of an ongoing charity involvement campaign called "Agents of Change," the Ray Insurance team will be selecting and support another local charity every 60 days.
All those who wish to take action and join Ray Insurance Agencies and the American Cancer Society during the Relay For Life are invited to visit the following page and make a direct effort to support the event: http://www.rayinsuranceagencies.com/Racing-Towards-A-Cure_22_community_cause. Further information on previous charitable causes and nonprofit organizations supported by Ray Insurance Agencies can be found on the firm's Community Causes page: http://www.rayinsuranceagencies.com/community-cause?page=1.
About Ray Insurance Agencies
Headquartered in Fort Worth, Texas, Ray Insurance Agencies is committed to providing local communities with insurance service that meets their needs. Taking pride in its team of professionals, Ray Insurance Agencies works with carriers to assemble a variety of products and services for its customers. These services include all the products a typical consumer needs (home, auto, boat, ATV, etc.), financial services (retirement, savings, long term care, disability, etc.), business insurance (liability, building, auto), and workplace and individual benefits (accident, critical illness, cancer, disability, life). To reach a knowledgeable expert at Ray Insurance Agencies, visit http://www.rayinsuranceagencies.com/ or call (817) 514-0358.