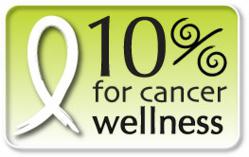 Boulder, CO (PRWEB) December 27, 2012
Boulder's philanthropic tea company, The Tea Spot, is proud to celebrate the end of another successful year of continued growth with an acknowledgment of its partnership with cancer wellness organizations. At the core of The Tea Spot's mission is the passionate desire to improve people's health and longevity by making loose leaf tea an everyday luxury. The company is dedicated to creating exceptional products for everyday use that enhance wellness through loose tea. The Tea Spot is also a Certified B-Corporation – a group of over 500 companies who use the power of business to create public benefit. Core to its mission, The Tea Spot donates 10 percent of its sales in time, services, and product donations to cancer and community wellness programs.
In 2012, The Tea Spot distributed product donations to more than twenty different organizations. Award winning STEEPWARE® 'Steep and Go' cold brew tea infusers with samples of The Tea Spot's "Refresh" licorice-mint herbal tea were provided to every race participant at a half marathon in Colorado. 'Tea For Two' tea gift sets, which include two steeping cups with three large tins of loose leaf tea were provided for a nordic ski challenge, also in The Tea Spot's home state of Colorado. Mini tins of premium green tea were provided as giveaways for donor campaigns, and silent auctions for cancer awareness.
The Tea Spot also supported Jodi's Race for Awareness, an annual 5k Run/Walk and 1k Fun Run with a runner's bib sponsorship. Jodi's Race is a fund raising event for the Colorado Ovarian Cancer Awareness (COCA). COCA's mission is to promote awareness about ovarian cancer through advocacy, education and support, which benefits from alignment with The Tea Spot's vision for promoting wellness. Increased understanding of the role antioxidants play in the prevention of cancer and cardiovascular disease have brought tea to the forefront of medical research as a healthy beverage option. The Tea Spot's 2012 beneficiary organizations range from cancer rehabilitation efforts to health and wellness awareness organizations.
The Tea Spot is a for-profit philanthropic business producing handcrafted loose leaf teas and Steepware® – the tools that make loose tea easy. The Boulder, Colorado-based woman owned and operated company was founded by Maria Uspenski in 2004. A cancer survivor drawn to the health benefits of leaf tea during her recovery, she set forth to modernize the loose-leaf tea experience. Her message is simple and powerful: tea in its freshest form renders incredible flavor, unmatched health benefits, and is eco-friendly. The Tea Spot is a Certified B Corporation and ensures that its products uphold clean, sustainable and fair manufacturing standards. The company's model of social entrepreneurship incorporates a culture of giving as it grows: ten percent of all profits are donated in-kind to cancer and community wellness programs.