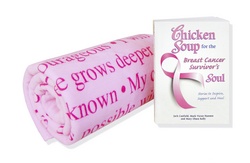 Something in me shifted, and I knew I had to find a way to honor this woman's life.
SEATTLE (PRWEB) September 20, 2007
The corrected release reads:
FEATURE/Letter from Woman Who Lost Her 37-Year-Old Friend to Breast Cancer Inspires Seattle-Based Affirmagy to Launch Courage Campaign to Comfort Those Touched by Breast Cancer
When Affirmagy Founder Kristen Marie Schuerlein received a thank you letter from a customer she had never met, the direction of her personal affirmation blanket company took an immediate turn to make a lasting difference. Affirmawraps are warm, cozy fleece blankets silk screened with positive affirmations that wrap each wearer in cuddly comfort.
As a gesture of hope, Erin Wendte-Lahren of Kirkland, Washington gave a pink Courage Affirmawrap to her friend Jill the week she passed away after waging a four-year battle with breast cancer. "Erin's letter reminded me that I had several women in my life who are survivors," shared Schuerlein. "Something in me shifted, and I knew I had to find a way to honor this woman's life."
"I am courageous. I follow my heart. Step by step my courage grows deeper and stronger. I embrace the new and unknown. I surround myself with courageous and passionate people. I choose to be powerful..." are some of the phrases that grace each Courage blanket.
Jodi Scheffler, Jill's sister, was given a Strength Affirmawrap at the same time. She slept with it those last days in hospice with Jill. "As friends visited, they read the statements on the blanket because they seemed to give testament to who Jill was and how she lived," explained Wendte-Lahren. "Those words were the things that cancer could not take from her." Today the blanket is in the hands of Jill's young daughter.
Schuerlein was so inspired by these women that she crafted a way to donate a portion of sales to charities that fund breast cancer research. Just in time for National Breast Cancer Awareness month this October, Affirmagy (http://www.affirmagy.com) has teamed with Chicken Soup for the Soul Enterprises (http://www.chickensoup.com) to offer the Book and Blanket Bundle.
The Book and Blanket Bundle ($39.95) includes a pink Courage Affirmawrap and a Chicken Soup for the Breast Cancer Survivor's Soul book of stories and inspirations. Twenty percent ($7.99) of the purchase price of each bundle will be donated to cancer charities. Affirmagy has pledged a minimum of $15,000, up to $50,000, to Susan G Komen for the Cure (http://www.komen.org).
Over 200,000 women in the United States will be diagnosed with breast cancer this year. With this is mind, Schuerlein has added a "Pay It Forward" button to her online shopping cart that makes it easy for customers to make a difference in the lives of those touched by breast cancer. Affirmagy will anonymously donate each "Pay It Forward" bundle purchased to a women facing breast cancer treatment.
"My intention is to inspire tens of thousands of people across the U.S. to act now and give the gift of courage. Moms, friends, sisters and daughters and everyone who loves them can send inspiration where it is needed most by this simple act," Schuerlein said. "My vision is to raise $400,000 while donating thousands of Book and Blanket Bundles to women across the nation."
Schuerlein has posted a video to YouTube to bring to life the impact Erin, Jill and Jodi had on her and the direction of her company. View it at this link: http://www.youtube.com/watch?v=PFle8U5JAW0
About Affirmagy:
Affirmagy is a women-owned enterprise based in Seattle, Washington that is committed to making a difference in the world. Affirmagy creates soft blankets silk screened with positive affirmations about big ideas such as love, courage, gratitude, motherhood, and love. Visit http://www.affirmagy.com to learn more, view the product line, and make purchases. Visit http://affirmagymediakit.squarespace.com/breast-cancer-bundle-media/ for more information about this powerful campaign.
Note: Jodi Scheffler is available for media interviews to share her story and would be honored to celebrate the legacy of her sister Jill while bringing attention to the quest for the cure. Contact Schuerlein at 206-624-6018 or kristen@affirmagy.com to coordinate interviews.
KEYWORDS: Cancer, Breast Cancer, Affirmations, Affirmagy, Affirmawraps, Susan G Komen, Komen, for the Cure, Breast Cancer Awareness