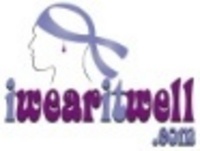 iwearitwell.com provides chemotherapy patients with a supportive solution when energy levels are low and appearance anxiety is high. We have created color-coordinated ensembles consisting of shirts, handmade earrings and head scarves. During one of the most difficult periods in their lives, our goal is to help your loved one look good and feel better
FORT MYERS, Fla. (PRWEB) March 26, 2008
Initially, iwearitwell.com will offer handmade head scarves, earrings and matching shirts to help women suffering from hair loss while providing an option for friends and family to give a gift of support. Moving forward, iwearitwell.com intends to expand beyond the head wrap ensembles with products that help women progress from cancer patient to cancer survivor.
Millions of people will face this horrible disease in 2008, either as a victim or someone that cares about one. According to recent statistics released by the American Cancer Society, approximately 565,000 Americans are expected to die of cancer this year. Furthermore, 1 in 3 women will suffer from cancer in her lifetime and face the challenges of treatment while fighting this illness. While the statistics are dramatic, the personal experiences of each person dealing with cancer go beyond mere numbers.
Cancer is a truly devastating illness that attacks a person, their family and friends on every level - physically, emotionally and spiritually. After battling and beating breast cancer, Kelly Henderson, founder of iwearitwell.com, decided to share her experience to help cancer patients and their loved ones fight this terrible disease. Having undergone the physical and emotional effects of chemotherapy, Kelly was determined to find a way to assist other cancer patients suffering from hair loss. From this understanding and a passionate dedication to help other women, iwearitwell.com was born.
A Personal Welcome Message from Kelly Henderson
"iwearitwell.com provides chemotherapy patients with a supportive solution when energy levels are low and appearance anxiety is high. We have created color-coordinated ensembles consisting of shirts, handmade earrings and head scarves. During one of the most difficult periods in their lives, our goal is to help your loved one look good and feel better," stated Kelly.
"Beyond our product line, our website provides a newsletter filled helpful information and support tips. We also invite cancer patients, survivors and supporters to share their personal experiences.
"Along with helping today's cancer patients, iwearitwell.com is helping future cancer victims by donating a portion of our proceeds to the American Cancer Society and other research organizations dedicated to finding a cure."
About iwearitwell.com
iwearitwell.com is dedicated to helping chemotherapy patients look good and feel better by providing color-coordinated comfort wear consisting of handmade head scarves, earrings and shirts. Kelly Henderson - Founder and breast cancer survivor - truly understands the physical and emotional challenges associated with chemotherapy. During her treatments, she quickly realized the need for an easy, coordinated and 'feel good' solution for hair loss... and created iwearitwell.com.
Kelly, along with Peggy Hoban (Co-Founder/Supporter) and Sylvia Kelly, share an uncompromising conviction to pursue solutions to help cancer patients today and in the future.
The primary objectives for iwearitwell.com are to:
-- Help chemotherapy patients look good and feel better by providing color-coordinated comfort wear
-- Give friends and family gift options to support loved ones going through chemotherapy or suffering from hair loss due to alopecia or other medical conditions
-- Support cancer research through affiliations with leading organizations like the American Cancer Society and others searching for a cure
For more information, please visit our Company's website at http://www.iwearitwell.com.