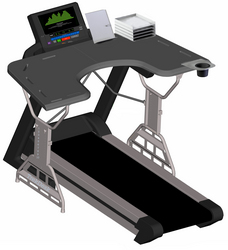 Treadmill desks allow individuals to feel empowered again. There is significant evidence that daily walking increases productivity, brain function, energy levels, mood and wards off major diseases such as cancers
Phoenix (Vocus) November 17, 2008
A recent series of studies concluded that vitamin supplements A through E were virtually impotent in preventing various forms of cancers. What was the recommendation following these studies? The most effective means of preventing cancers involved healthy dietary selections and performing as much daily exercise as possible. Treadmill desks allow workers to walk throughout the day while working, eliminating the number one reason most employees do not exercise consistently: time.
"Study after study is showing that our long term health is dependent upon significant amounts of exercise and healthy diets, yet the focus until recently has been on developing a magic pill that replicates what we can do for ourselves with a little determination and common sense," states Steve Bordley founder of TrekDesk, a treadmill desk manufacturer.
The evidence is overwhelming regarding the health enhancing qualities of daily walking. The challenge is trying to fit in enough time into schedules that involve primarily sedentary activities at a desk. "Walking has been shown to prevent colon, prostate and breast cancer along with a multitude of other diseases. Once people make the connection that they are in control of their health we think you will see more people requesting the option of walking while at work," Bordley stated. Major corporations have taken notice and have already signed on including Humana, Best Buy, GlaxoSmithKliine and Mutual of Omaha.
TrekDesk's website at http://www.trekdesk.com contains excerpts of numerous studies outlining the effectiveness of incorporating daily walking and the correlated reduction in cancer rates. "Treadmill desks allow individuals to feel empowered again. There is significant evidence that daily walking increases productivity, brain function, energy levels, mood and wards off major diseases such as cancers," states Bordley.
The supplement studies, which found no positive correlation between cancer reductions with Vitamins A,B, C, D & E were conducted by some of the most prestigious research centers in the nation including the National Cancer Institute, Harvard Medical School and the National Institutes of Health.
Many of these same institutions have published previous studies showing a direct reduction in cancer risks and other major diseases by individuals engaging in as little as three hours of walking per week.
ABOUT TREKDESK: manufacturer of the first affordable, full sized, adjustable workstation designed to fit an existing treadmill, allowing walking while working, weight loss without sweating and health enhancement.
CONTACT:
Steve Bordley
TrekDesk
Ph: 877-449-8588
FAX: 877-449-8588
Info @ trekdesk.com
http://www.trekdesk.com
###