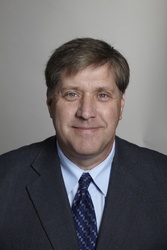 Dr. Holcombe will play a critical role of bolstering Mount Sinai's commitment to comprehensive cancer care, propelling the Tisch Cancer Institute to the forefront as a leading center. -- Wayne Keathley, President and COO of The Mount Sinai Hospital
New York (Vocus) September 24, 2010
Renowned colon cancer expert Randall F. Holcombe, MD, is joining The Mount Sinai Medical Center as Director of Clinical Cancer Affairs. He will also serve as Medical Director of the Ruttenberg Treatment Center, Associate Director for Clinical Affairs in The Tisch Cancer Institute, and Director of Gastrointestinal (GI) Medical Oncology for the Division of Hematology/Oncology. His appointment became effective on September 1.
"Dr. Holcombe will play a critical role of bolstering Mount Sinai's commitment to comprehensive cancer care, propelling the Tisch Cancer Institute to the forefront as a leading center," said Wayne Keathley, President and Chief Operating Officer of The Mount Sinai Hospital. "We're pleased to have someone of Dr. Holcombe's caliber join our distinguished cancer institute."
In his role as Director for Clinical Cancer Affairs and Medical Director of the Ruttenberg Treatment Center, Dr. Holcombe will create a comprehensive, multi-disciplinary care center while fostering an environment in which staff can conduct ground-breaking research. Dr. Holcombe will also bring his expertise in GI oncology to broaden Mount Sinai's expertise in GI cancers.
A leading authority in colon cancer, Dr. Holcombe has broad experience ranging from basic science and translational research to clinical trials and patient care. His research initially focused on levamisole, an adjuvant treatment for people with stage III colon cancer, which led to a national clinical trial. His focus since 1997 has been on the signaling of a protein called Wnt and its role in colon cancer development and progression. He has served as the principal investigator on 127 clinical trials, and led the team that was the first to describe the selective expression of the LEF1 gene in colon cancer. Most recently, his laboratory has begun examining the clinical effects of a naturally-derived compound called resveratrol on the prevention or treatment of colon cancer. He is deeply involved in the promotion and facilitation of translational and clinical research.
"Dr. Holcombe embodies the unwavering dedication of the Tisch Cancer Institute and Mount Sinai to translational research," said Steven J. Burakoff, MD, Director of The Tisch Cancer Institute at The Mount Sinai Medical Center, Lillian and Henry M. Stratton Professor of Cancer Medicine, and Professor of Hematology/Oncology and Oncological Sciences. "The research he has conducted has impacted other deadly cancers, including melanoma, breast, and ovarian cancer, as well as inflammatory bowel disease. As a leader in GI oncology, Dr. Holcombe has made significant contributions in basic, clinical and translational research while also being a mentor to young scientists. We look forward to growing our GI oncology practice under his leadership."
Dedicated to educating and mentoring, Dr. Holcombe commits significant time to training students and post-doctoral fellows. He has served as fellowship director for the Accreditation Council for Graduate Medical Education-accredited hematology and oncology fellowship program, and on several basic science graduate student thesis committees. His mentorship of undergraduate and medical students and laboratory and clinical fellows was supported through a National Institutes of Health K24 Midcareer Mentoring Award. He also served on the Council of Mentors for the Institute for Clinical and Translational Science at the University of California, Irvine.
After receiving his medical degree from the University of Medicine and Dentistry-New Jersey Medical School in 1983, Dr. Holcombe was a Resident Physician at Brigham & Women's Hospital in Boston and a Clinical Fellow in Medicine, Genetics, and Hematology/Oncology, with additional training in obstetrical hematology, pediatric hematology/oncology, and solid tumor oncology at Harvard Medical School. He then joined Louisiana State University School of Medicine as an Assistant Professor of Medicine, where he remained until 1998. He then joined the University of California at Irvine Medical Center, where he became Chief of the Division of Hematology/Oncology, Associate Director for Clinical Research, Director of the Office of Clinical Research and Trials, Associate Vice Chancellor for Research, and Professor of Medicine until his Mount Sinai appointment.
About The Mount Sinai Medical Center
The Mount Sinai Medical Center encompasses both The Mount Sinai Hospital and Mount Sinai School of Medicine. Established in 1968, Mount Sinai School of Medicine is one of few medical schools embedded in a hospital in the United States. It has more than 3,400 faculty in 32 departments and 15 institutes, and ranks among the top 20 medical schools both in National Institute of Health funding and by U.S. News & World Report. The school received the 2009 Spencer Foreman Award for Outstanding Community Service from the Association of American Medical Colleges.
The Mount Sinai Hospital, founded in 1852, is a 1,171-bed tertiary- and quaternary-care teaching facility and one of the nation's oldest, largest and most-respected voluntary hospitals. In 2009, U.S. News & World Report ranked The Mount Sinai Hospital among the nation's top 20 hospitals based on reputation, patient safety, and other patient-care factors. Nearly 60,000 people were treated at Mount Sinai as inpatients last year, and approximately 530,000 outpatient visits took place.
For more information, visit http://www.mountsinai.org . Follow us on Twitter @mountsinainyc.
###