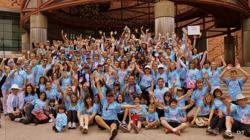 Orthopedic doctors , Dr. Glenn D. Cohen and Dr. Brian D. Rudin, along with their winning teammates, recently raised over fifty-eight thousand dollars for a cancer research charity called EIF Revlon Run/Walk for Women.
Westlake Village, CA (PRWEB) August 23, 2012
The cancer research charity event, EIF Revlon Run/Walk for Women, raises funds for cutting-edge women's cancer research, diagnostic treatment for medically under-served women, and to deliver psycho-social services and financial support to women with cancer and their families. Renowned Southern California orthopedic doctors, Glenn D. Cohen M.D., and Brian D. Rudin M.D., of Westlake Village participated in the 2012 run/walk to support this worthy cause in Los Angeles, California. Once again, they teamed up with the members of Team Taras in order to raise a grand total of $58,536. This put them as the #3 team of the year of all competing teams, in addition to having the #1 individual fundraiser of the year.
Team Taras finished behind Toyota and Disney, and managed to out-fund both UCLA and Wells Fargo in an impressive display of commitment and care for the mothers, daughters, wives, and sisters of the world who suffer from women's cancers. Over a ten year period the team has raised close to $500,000 for cancer research charity.
After growing to 250 teammates in 2010, starting with only 12 a decade earlier, a new goal was set by Dr. Ian Taras to empower splinter-teams from the main group of the EIF Revlon Run/Walk for Women Los Angeles in 2011. The results were so overwhelmingly positive that this strategy was emulated for 2012; surpassing the previous year's earnings by over three thousand dollars.
If you or any members of your family would like to join in the fun and support cancer research please contact the office of Doctors Cohen and Rudin to sign up for more information on how to participate in the EIF Revlon Run/Walk for Women Los Angeles 2013.
Contact:
Stacey Westfall
805.370.6877
Staceyj (at) handsurgeon (dot) org