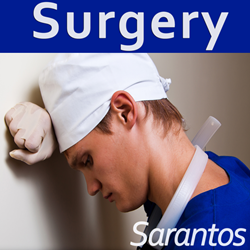 I thought it would also be fun to put some clues and subtle hints in the music video that might one day mean something significant to the diehard fan!
Park Ridge, IL (PRWEB) September 08, 2015
Sarantos Releases New Rock Music Video For "Surgery" Aiming To Promote Awareness For Cancer Surgery.
Sarantos recently underwent surgery. Sarantos underwent an upper endoscopy which found an esophageal stricture and chronic eosinophilic esophagitis (allergic reaction). The opening had closed down to about the size of a straw! No wonder Sarantos was having difficulty for the last four years with eating and intense chest pain. Thankfully, all is better now.
This music video shows the personal ordeal any patient goes thru when they undergo any type of surgery, whether it is for cancer surgery, something benign, a simple mole or childbirth. Almost everyone will have surgery at some point. Modern medicine has come a long way but surgery is still surgery. The complex video has several subliminal messages throughout and subtle clues on the mystery that is Sarantos. Who is Sarantos? What does he do for a living? What do fans know about his personal life? Sarantos continues a never-ending journey and with each song and music video reveals something personal about himself. They are like pieces to a puzzle that fans are piecing together every month.
"This is a rock music video about me having surgery," says Sarantos. "There is a sense of anxiety and frustration as he is put in a helpless situation. He is used to being in control but must now accept his fate. He must put his life in the hands of someone else which is both humbling and terrifying. I thought it would also be fun to put some clues and subtle hints in the music video that might one day mean something significant to the diehard fan! My journey continues."
Sarantos recently started using a new social media platform & has many exclusives coming soon:
http://www.empowr.com/sarantosmelogia
Check it out. It's free and an easy way to make extra money doing what you already do with your friends - post, like and share songs, links, videos and anything else you want.
Sarantos won the Akademia LA Music Awards in 2015 for Best Song (What If I Never See You Again), Best Rock Song (Easy To Believe), Best Rock Music Video (We Accept The Love We Think We Deserve), Best Singer/Songwriter Song (A Mission Of Heart, I Sing), Best Pop Song (I Sing) & Best Pop Rock Album (Not Where I Wanna Be).
Sarantos has won 10 Beat 100 song & music video awards in 2015 and 2014. Sarantos was nominated for the International Music & Entertainments Awards in 2015 for "Rock Song of the Year" and in 2014 for "Rock Song of the Year" and "Pop Album of the Year." In 2014, he was also nominated for the Hollywood Songwriting Awards for Best Unsigned Song (Are You Sure You Can Last).
Even without a label or radio promoters, Sarantos song "What If I Never See You Again" has been in the top 200 on the majors list in the US for radio airplay according to the Digital Radio Tracker Top 200 charts. On the independent charts, Sarantos is still in the top 10. He's been on both these lists since early April.
33% of any music-related sales profits from this song are going straight to Helping Hands Surgical Care.
Helping Hands Surgical Care is a non-profit organization whose mission is to fund and facilitate surgeries for uninsured and underinsured patients who are unable to pay for medically necessary surgeries. They dedicate their efforts to transforming the quality of life for those they serve, regardless of their ability to pay..
*Because Sarantos wants his music shared throughout the world, fans can always find all of his songs, lyric sheets, videos and books on his website for free. He openly gives everyone the right to share his song mp3s for free with anyone they want via email or any of the social media platforms.
**Fans can sign up for his free email list to get the inside scoop first and exclusive content available nowhere else.
http://www.melogia.com
http://www.empowr.com/sarantosmelogia
https://www.facebook.com/Sarantosmelogia
http://www.twitter.com/sarantosmelogia
http://www.youtube.com/user/SarantosMelogia
Sarantos' iTunes & Apple Connect:
http://bit.ly/SarantosAppleStore