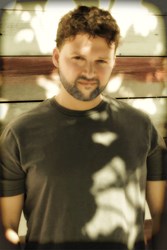 A powerful song about someone struggling with a diagnosis & treatment of cancer. CANCER is not where anyone wants to be!
Chicago, IL (PRWEB) January 09, 2014
Sarantos Releases Awaited First Music Video
Sarantos finally released his first music video 'Not Where I Wanna Be' and continues to cater his songs & video releases to his eager fans' wishes. "Not Where I Wanna Be" is one of the most eagerly anticipated music video debuts in the Chicago area in the last decade.
The music video has received promising reviews as a time-lapse masterpiece which adds subtle yet potent emotion to this sad ballad about a man not being where he wants to be at this point in his life. The hidden interpretation regarding cancer, has propelled this powerful song. Cancer patients have bonded over this song and used it as a source of inspiration and motivation. Cancer diagnosis and treatment is a very trying time in their lives, and music can help them deal with their daily routine and the ups and downs of that moment in their lives. Sarantos has experienced this firsthand with his father going thru a diagnosis of lung cancer three different times before finally succumbing to the disease three years ago.
Sarantos' unique sound has been best described by industry insiders as "an emotionally powerful vocal style masterfully united with music that is a fusion of classic 80s rock blended with modern soft rock and pop music!"
Solo music artist Sarantos has reached over 25,000 fans on Facebook and 50,000 Twitter followers without even releasing his first song yet! All this hype has made Sarantos even more excited for his music debut. The first song is titled "Not Where I Wanna Be" and was finally released worldwide on January 2nd, 2014. The music video was released January 9th, 2014.
Sarantos was born and raised in the Chicago area and it seems that the local communities was ready to support him. The buzz was building for months and the moment his music finally arrived, fan support far exceeded his expectations.
Sarantos has a strong motivation with his musical passion to raise money for charity. 33% of any music-related sales profits are going straight to charity! For Not Where I Wanna Be, Sarantos has chosen the American Cancer Society. The decision was really simple. Sarantos father passed away a few years ago after a long battle with lung cancer.
"This song is about turning 30 years old," says Sarantos. "It's an exciting but also slightly depressing time in someone's life. The song is about a man wondering what he has accomplished so far in his young life. This is not the life he envisioned for himself. He feels like he has not accomplished what he wanted to by this point in his life. He is just not where he wants to be! Of course, the song also intends to bring the word cancer into the discussion. This song is also about the many number of patients struggling with a diagnosis & treatment of cancer. CANCER is also not where anyone wants to be!"
Sarantos strives to inspire people with his songs and lyrics. Music is always on his mind and Sarantos has written over 2,000 songs! Sarantos' music has received rave reviews so far from industry insiders, and he relishes this chance to pursue his lifelong dream.
A new song will be released every 4-6 weeks to tease his fans. The CD will be released in 2014. Sarantos has always been inclined to help people in need and is proud to launch this CD as a way to donate a significant portion of proceeds to charity, hopefully inspiring other artists to do the same. The 11 charities chosen for each album song include American Lung Association, Make-a-wish Foundation, American Heart Association, St Jude's, Hellenic Academy, ASERF, American Red Cross, Children's Hospital of Chicago, Chicago Medical School, Thanioton Society & the Cystic Fibrosis Foundation.
The website, Melogia (which in Greek means "with words") was established by Sarantos, an aspiring singer and song writer.