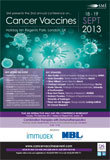 Recent success of Yervoy and Provenge combined with sustained clinical pipeline of cancer vaccine candidates illustrate that we are entering a new era of clinical oncology - MHRA
London, UK (PRWEB UK) 21 August 2013
Alex Kudrin, Medical Assessor, Biological Licensing, who will be making the address at the summit, released a statement on the future of clinical oncology and his participation:
"The cancer vaccine conference will bring together experts from academia and industry in order to discuss most recent developments in a highly promising field of cancer immunotherapeutics. The recent success of Yervoy and Provenge combined with sustained clinical pipeline of cancer vaccine candidates illustrate that we are entering a new era of clinical oncology where we can truly change the outcome in cancer patients and improve the quality of oncology care. Experts from all walks of life will be able to hear on the most up-to-date trends in regulatory, development and commercialization of cancer immunotherapeutics and what opportunities and challenges exist in the field."
Alex will be providing delegates with a global overview of cancer vaccines with a spot light on phase II-III studies, FDA and EMA conduct and implications of new immunotherapies on health care and reimbursement.
The MHRA will be joined by many more leading industry experts at the much anticipated return of SMi's 2nd annual Cancer Vaccines Conference which is now just under 4 weeks away.
Speakers will include:

Graham Pawelec, Professor of Experimental Immunology, University Of Tuebingen
Martin Glennie, Professor of Immunochemistry, University Of Southampton
Oliver Wilbert, Senior Director Immunotherapies, Merck KGaA
Pierre van der Bruggen, Group Leader, Ludwig Institute for Cancer Research
Rose-Ann Padua, Research Director, INSERM
Sonia Quaratino, Senior Medical Director and Immunology Advisor, Merck Serono
The event aims to be a unique platform for learning about the new advances in cancer vaccines, presenting attendees with latest developments and innovations in this ever changing field. Event highlights include:
A key note presentation from Oliver Wilbert, Senior Director from Merck who will be presenting on Novel Strategies in cancer vaccines development.
A new session on regulatory issues with keynote address from Alex Kudrin, Medical Assessor, Biological Liciencing, MHRA
Pre-Conference workshop on Combination Therapies with Immunotherapeutics led by Transgene
Update on most advanced Phase III trials in Lung Cancer
Overview of the potential long term implications of inducing an anti-tumor immune response
2 networking morning coffee breaks, 2 networking afternoon tea sessions and 2 networking lunches.
Cancer Vaccines | 18 – 19 September 2013, London UK
For further information on this event visit http://www.cancervaccinesevent.com