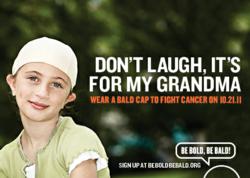 "Don't whisper, it's a sign of strength for millions."
Boston, MA (PRWEB) August 01, 2011
If you see people donning bald caps on outdoor billboards, sides of trains and buses, and websites during the next few months, don't be surprised. They are helping to spread the word about Be Bold, Be Bald! and the courageous act they are doing to raise awareness and donations for cancer charities. On October 21, people across the country will be wearing bald caps to raise money in honor of family members, friends and colleagues.
Now in it's third year, Be Bold, Be Bald! is unlike most fundraisers that are limited by physical requirements, time constraints or geographical borders. Participants in Be Bold, Be Bold! wear a bald cap for the entire day on October 21, 2011. It's not a physical challenge; it's a vanity challenge – one that cancer patients do not often have a choice about. To date, the event has raised over $250,000 with proceeds benefitting The Jimmy Fund, LiveSTRONG, The Prostate Cancer Foundation, The International Myeloma Foundation and The Susan Love Research Foundation. This year, even more charities – local and national – will benefit from the event.
The marketing campaign, created by Boston ad agency Small Army, reminds people that, while it may feel awkward to wear a bald cap for an entire day, cancer patients often do not have a choice about losing their hair. Ads showcase people from all walks of life, proudly wearing a bald cap, with lines such as 'Don't laugh, it's not a fashion statement' and 'Don't judge, it's a sign of solidarity.'
"We wanted people to recognize that this is not a joke, but a way to walk in someone else's shoes for just one day," states Steve Kolander, EVP/Creative Director at Small Army. "Very few fundraisers enable participants to do this."
All materials for the campaign are available for download at http://beboldbebald.org/2011advertising so interested websites and media companies can promote the event through their channels.
Media Networks Inc., a division of Time Inc., is one of the companies generously donating media placements for the Be Bold, Be Bald! campaign. "It is an honor to be able to help such a unique and amazing event," states Robert Reif, president of Media Networks, Inc.. "The fact that they are bringing together so many people and cancer charities across the nation should be an inspiration to everyone."
Cancer organizations are still invited to become a beneficiary of the event by filling out a brief form on the event website. Participant registration is also open at BeBoldBeBald.org. An early-bird discount is offered on the sign-up for everyone that registers before August 15, 2011. Special registration packages are also available for student organizations who would like to participate in the event. Upon registering, participants receive a free bald cap to wear on the day of the event, a t-shirt and a variety of online and off-line fundraising tools, including personal online fundraising pages for each individual participant and team.
Be Bold, Be Bald! is managed by Small Army for a Cause, a 501c3 organization committed to helping raise awareness and funds for medical-related causes. Small Army for a Cause was founded in 2008 by Boston Advertising Agency, Small Army, in honor of its co-founder, Mike Connell, a 2-time cancer survivor who lost his life to the disease in November 2007.
###