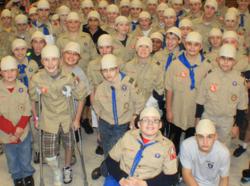 It's not a physical challenge, but a vanity challenge.
Boston, MA (PRWEB) June 23, 2011
Small Army for a Cause announced that it has opened registration for its 3rd annual nationwide fundraiser for cancer charities, Be Bold, Be Bald! being held on October 21.
Unlike most fundraisers that are limited by physical requirements, time constraints or geographical borders, participants in Be Bold, Be Bold! simply need to wear a bald cap for an entire day to honor cancer survivors, and raise money for their act.
"Wearing a bald cap may see like a simple thing to do, but it is more challenging than most expect. It's not a physical challenge, but a vanity challenge. One that many cancer survivors courageously endure without choice," says Jeff Freedman, founder of the event. "In a small way, this bold move puts participants in the shoes of cancer survivors for one day, and is truly an eye opening experience for those that take part."
More than 2,500 people across the United States have participated in the event, many as part of student, corporate or organization teams. In two years, the event has raised more than $250,000. For a small participation fee, participants receive a free bald cap to wear on the day of the event, t-shirt and a variety of online and off-line fundraising tools, including personal online fundraising pages for each individual participant and team. When registering for the event, each participant is able to identify the charity to which his/her net fundraising proceeds will benefit. In previous years, proceeds benefitted The Jimmy Fund, LIVESTRONG®, The Prostate Cancer Foundation, The Susan Love Research Foundation, and The International Multiple Myeloma Foundation. This year, the event proceeds will help even more organizations all around the country, to help them achieve their unique missions and unite in this one-day nationwide event.
Participant registration is now open on the event website, BeBoldBeBald.org. An early-bird registration fee of $15 is available until August 15, 2011 at which time the fee will increase to $20. Special registration packages are also available for student organizations who would like to participate in the event.
Be Bold, Be Bald! is managed by Small Army for a Cause, a 501c3 organization committed to helping raise awareness and funds for medical-related causes. Small Army for a Cause was founded in 2008 by Boston Advertising Agency, Small Army, in honor of its co-founder, Mike Connell, a 2-time cancer survivor who lost his life to the disease in November 2007.
###